AliExpress has become a large dropshipping platform with seemingly endless resources of dropshipping suppliers and products. Many dropshippers source and import products from AliExpress. SourcinBox is a dropshipping agent that is similar to AliExpress in some ways but dedicated to source products and fulfill orders for dropshippers.

But which one is a better choice for your dropshipping store? What are the differences between SourcinBox and AliExpress?
This article will figure it out in the following aspects.
Dropshipping Model
How does SourcinBox dropshipping work?
SourcinBox is dedicated provides dropshipping fulfillment services, including product sourcing, purchasing, quality check, order fulfillment, warehousing, private labeling, product photography, etc.

SourcinBox also provides an efficient dropshipping app. There is a Marketplace that contains over 20 thousand products on the SourcinBox app. You can import them to your store directly. Besides, it allows you to import AliExpress products by the product links. Or just send product links or images as sourcing requests to the SourcinBox team. SourcinBox can source high-quality products at lower prices for you directly from manufacturers or other reliable dropshipping suppliers.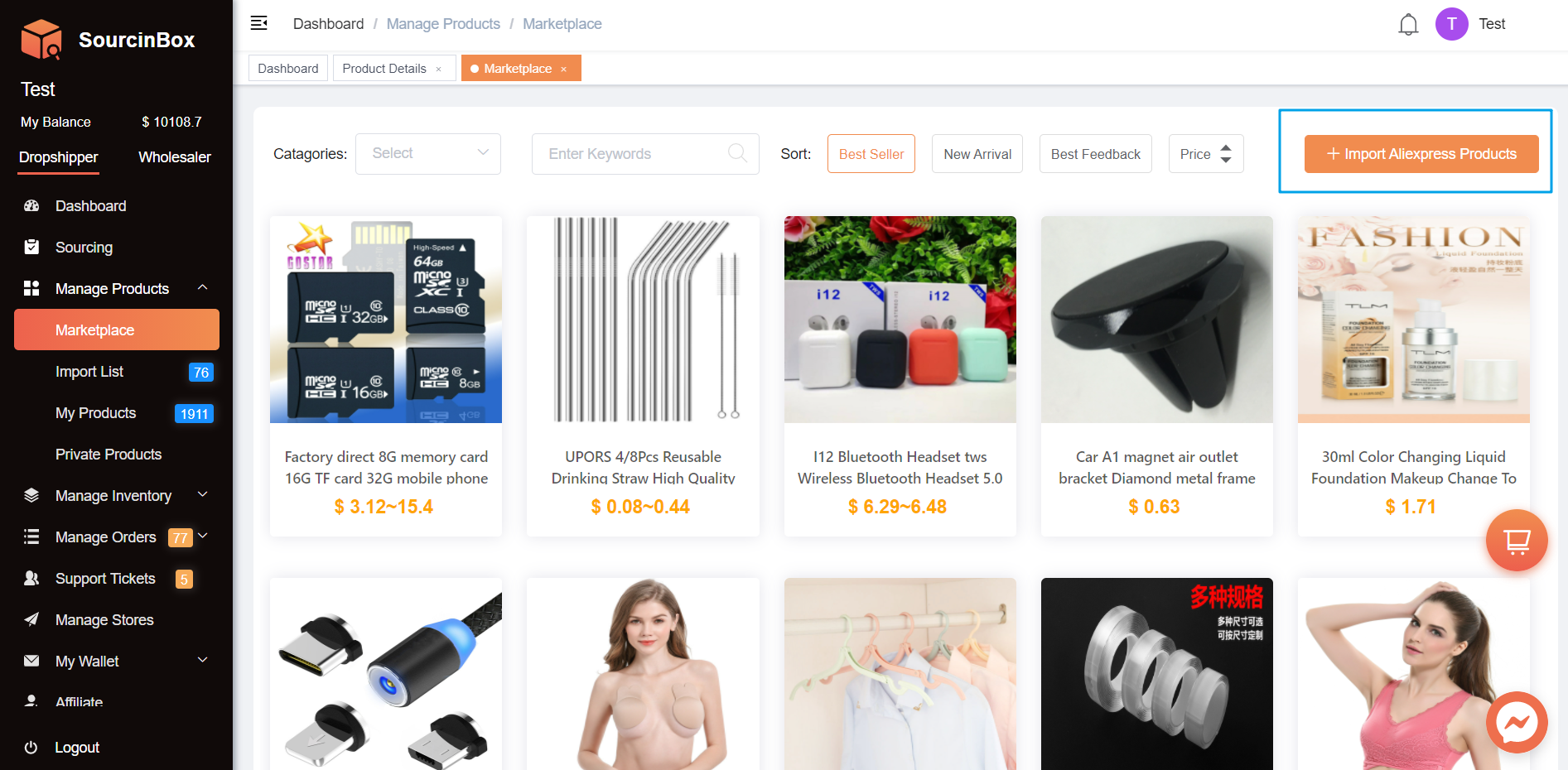 Orders from your Shopify/ Woocommerce/ Shoplazza stores will be synced to SourcinBox automatically. You can import orders from other stores by datasheets like CSV or Excel. And you can place the bulk of orders with one click. In addition to the real-time orders placed by your customers, you can also choose to buy inventory or place wholesale orders. There's no MOQ limit.

SourcinBox works with all the mainstream shipping companies in China and offers multiple shipping methods with fast shipping times. It allows you to choose different shipping methods for each customer. And before shipment, all the products and packages will go through a quality check.

SourcinBox allows you to customize the product packaging, logo, specs or personalized cards, etc. You can customize your private label to promote your own brand if you have large numbers of stable orders.

How does AliExpress dropshipping work?
AliExpress itself is a huge e-commerce platform. Customers can buy products directly on AliExpress, or buy Aliexpress products from other stores, like Shopify or Woocommerce stores, and then AliExpress suppliers dropship the products.

AliExpress Dropshipping Center integrates products that support dropshipping on AliExpress, is also a product analysis tool. You can select hot selling products from different suppliers by product category, country, delivery time, price, and shipping methods or search products by images. However, the products cannot be connecting to your stores directly. You need to place orders on AliExpress manually one by one.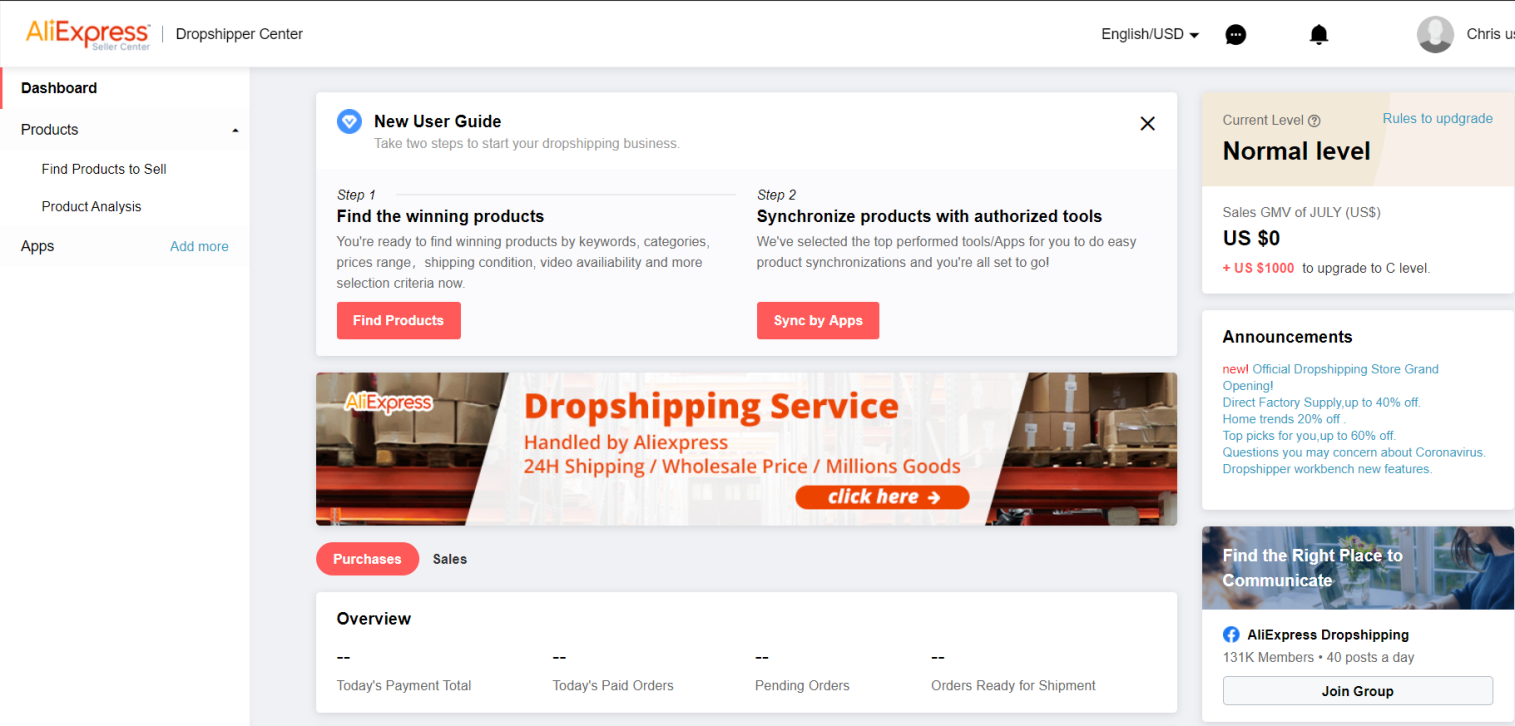 To make it more efficient, you need some dropshipping apps to import AliExpress products to your stores and manage your orders in batches.

You can import AliExpress products to your Shopify store with Oberlo, which connects AliExpress and Shopify. Your orders from the Shopify store will sync on Oberlo. Once you confirm the orders, Oberlo will automatically send the order information to the corresponding supplier and place the order directly with the AliExpress supplier, and then the AliExpress supplier will deliver the products for you, so you don't need to do it yourself. But Oberlo can only be used for Shopify dropshipping.

Other dropshipping apps such as SourcinBox, also allows you to import AliExpress products. But unlike Oberlo, you can manage orders from Shopify, Woocommerce, or other stores on Sourcinbox, and you can get lower prices and faster delivery times than on AliExpress.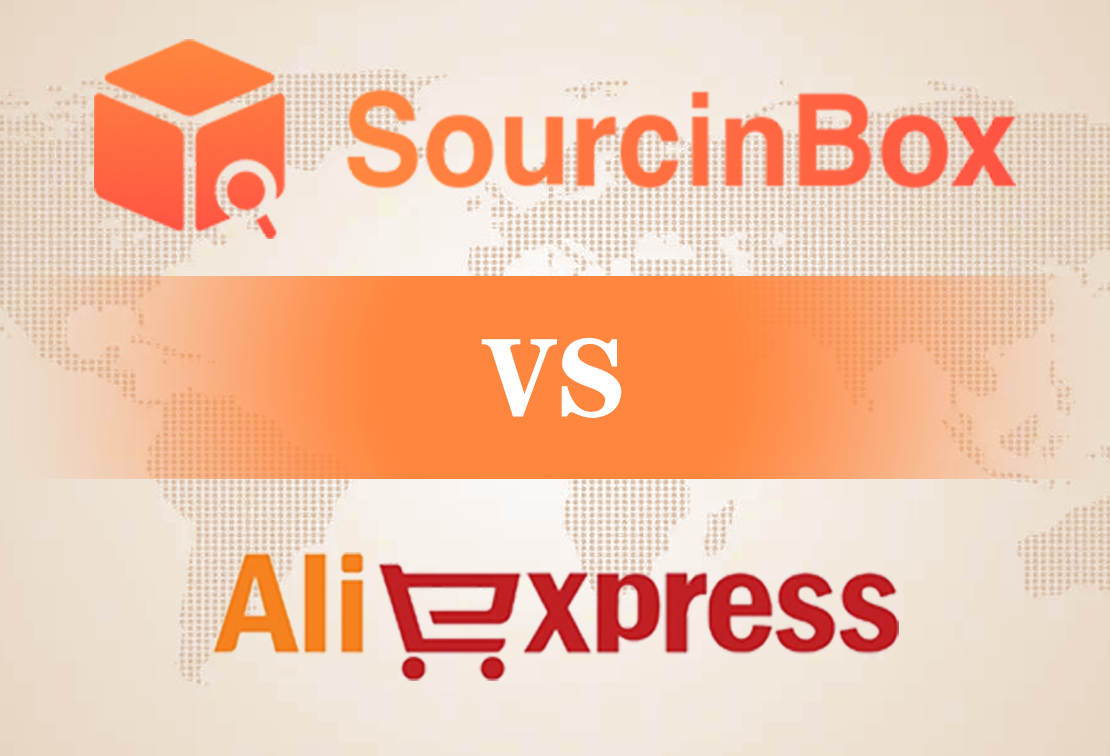 Looking For A Dropshipping Agent?
Lower Prices.

Fast Processing & Shipping.

Efficient Order Fulfillment.

Responsible After-sales Service.
Pricing
SourcinBox Pricing
In most cases, the total prices (product prices+shipping prices) on SourcinBox are lower than those on AliExpress. Because the product cost and the shipping cost are separate, which is more reasonable. The shipping cost will be more cost-effective if you order more products at once. The shipping price depends on the shipping method, product weight, and delivery country.
AliExpress Pricing
AliExpress has a wide range of products and offers a variety of coupons for new users. It seems that many products are sold with free shipping. AliExpress attracts many new dropshippers.

However, if you compare the total price on SourcinBox with the total price on AliExpress, it's not certain that AliExpress is cheaper even with free shipping. Most AliExpress sellers just move part of or all shipping prices to the product price to make the shipping look attractive. Essentially, the pricing on AliExpress could make you actually pay more.

A Typical Example
The following plastic cup on AliExpress is $13.75 with free shipping from China to the US via AliExpress standard shipping, but it's $1.32 on SourcinBox. The shipping price is $9.65 with CNE Express. The total prices on SourcinBox are $10.97, which is cheaper than on AliExpress.

If you order 10 cups, it will cost you $13.75*10=$137.5 on AliExpress. But the total price on SourcinBox is $77.85, and the delivery time is faster than AliExpress. (The example is written by July 29, the estimated delivery time on AliExpress is Aug 19. About 20 days. )

That's how AliExpress hides the shipping price.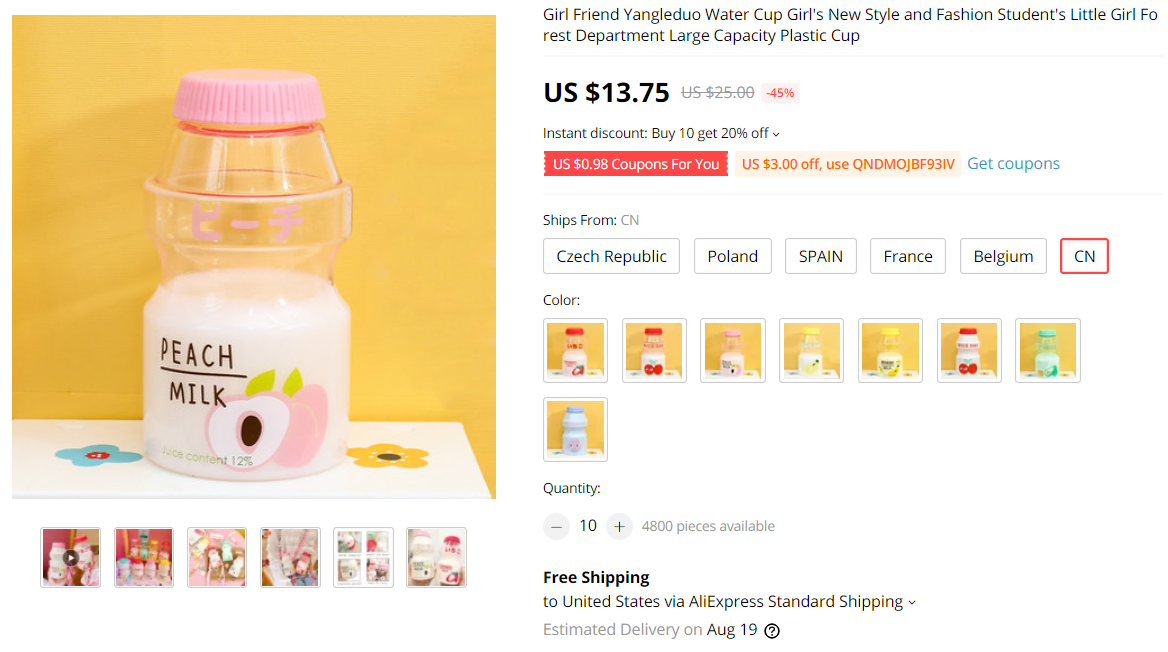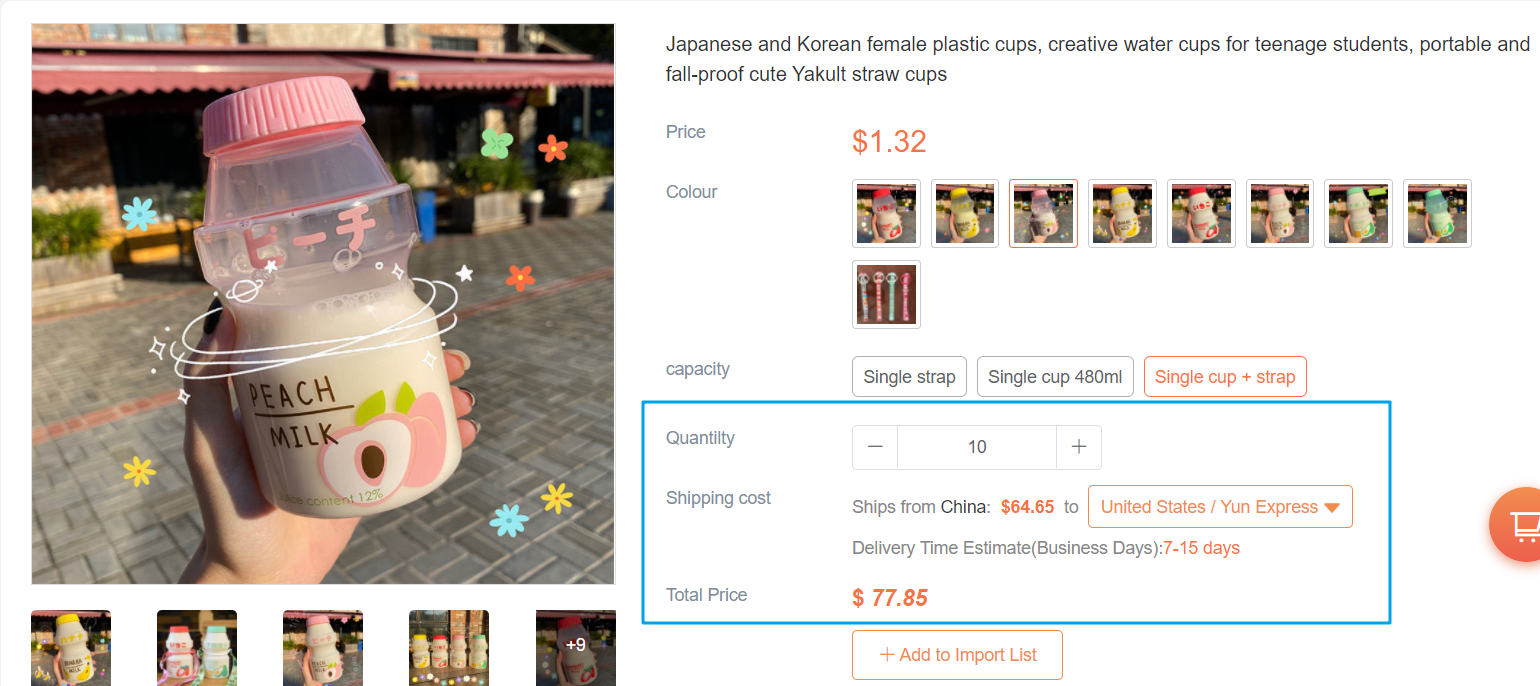 Delivery
SourcinBox Delivery
The most used shipping methods on SourcinBox are Yun Express, Yanwen Express, ePacket, CNE, 4PX, USPS, DHL, UBI, etc. You can choose different shipping methods for each customer and customize the shipping rules of your stores.

About the delivery time, It takes 4-7 days to the UK, Germany, and France, about 5 days to the US with the fastest shipping method. The general delivery time is 5-12 days to the US. The tracking numbers will update in your store and be sent to each customer by email as soon as the products are shipped.
AliExpress Delivery
Suppliers generally provide a variety of shipping methods, from the EMS, ePacket, UPS to DHL, etc.

But it's not easy to find reliable dropshipping suppliers. Some suppliers may lie to you that the products have been shipped but the tracking numbers cannot be found, and some will give you fake tracking numbers.

The delivery time is hard to say. The ePacket is not available for all the products. If you use AliExpress standard shipping method, the delivery time would be over 20 days or even a month to the united states.
Customer Service
SourcinBox Customer Service
There are a lot of good reviews of SourcinBox all about excellent customer manager service. The customer managers can provide you with a quick response and communicate well in English. They will help you with all the matters with 1-on-1 services.

SourcinBox offers reliable and responsible after-sales service in cases like damaged products, wrong products, lost packages, etc. You will get a reship for free or a refund as per your request as long as the issue is confirmed caused by SourcinBox.
AliExpress Customer Service
The quality of AliExpress customer service really depends on the AliExpress sellers. Each seller comes from different companies, the customer service varies a lot.

For example, sometimes you can only get automatic replies on AliExpress or poor responses about money and product problems. It will take a long time to solve your problems.

On AliExpress, the only thing you can get "after-sale" is whether you can get a refund if something is wrong with the products or you are not satisfied with the products. Because free returns are not available in all countries/regions. And not all products on AliExpress include free return service. Sometimes the shipping fee is even more expensive than the value of the product itself if you return the product to China.

Conclusion
Many people recommend against dropshipping with AliExpress because of the terrible quality and delivery times. Some people even complain that the shipping cost and VAT cost make dropshipping unprofitable on AliExpress. And many illegal suppliers and scammers increase the risk of doing dropshipping on AliExpress.

AliExpress is a good platform to start dropshipping and find hot selling products and suppliers. But when you have large numbers of stable orders in your stores, you need tools or other platforms to fulfill orders in batches. So AliExpress is not suitable for long-term use if you want lower risk and higher profit.

Dropshipping agents like SourcinBox can help you avoid lots of trouble. It takes care of the whole supply chain for you, bargains with manufacturers for your products and check the quality of the products. When you have problems, SourcinBox is always responsible and helpful.