We have launched the function on SourcinBox App to purchase inventory in advance to enable our customers to keep a track of the status of the inventory in real-time. All the inventory you purchase from us is exclusively owned and used by yourself.
Please note that in most cases the inventory orders can't be refunded because most manufacturers refuse to refund us once the products are sold to us.
Please kindly note that the products in the inventory order won't be shipped until you place store orders with us. There's no recipient information in the inventory order. The shipping price is not charged, either. With the inventory order, we only purchase the products from manufacturers and keep the products in our warehouse. When you have store orders of the inventory products, we can ship in 24 hours.
Please follow the steps below to purchase inventory. If you want to buy sample or make test orders, please check this tutorial.
1. Go to "Manage Products - Marketplace" under the "Dropshipper" section and find the product.
2. You will see the products ready to be purchased in Cart.
3. You can either enter "Full Screen" to check more details or get in Order Summary directly for further steps.
3.1) Full Screen (Purchase Cart)
After you submit, you will get in "Order Summary".
The purchase quantity of each item must be no less than 3 pieces to purchase inventory.
3.2) Order Summary to Place Inventory Order directly.
Choose the right warehouse and payment method to make payment.
Note:
When the inventory order is not paid, you can go check and continue to pay on Page "Purchase List". Also, you can check the status of the inventory orders.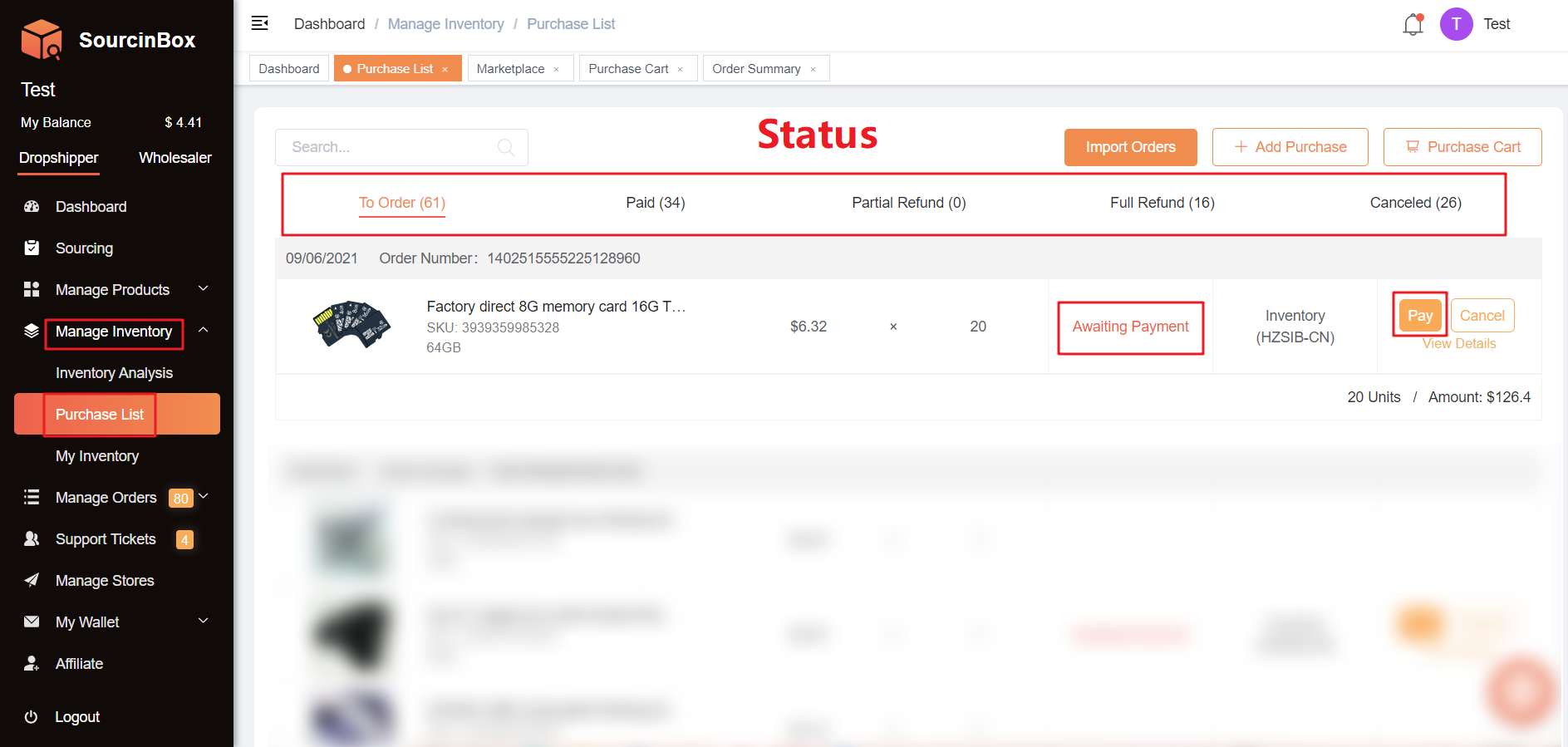 When the payment is done, you can see your inventory on Page "My Inventory".