Halloween, one of the most exciting western traditional festivals, is coming. Although the impact of the COVID-19 epidemic continues, with the spread of vaccines, and the slowdown of the epidemic, it is expected that the Halloween celebration in 2021 will be more exciting than last year.

Halloween is only one month away, and It's time to shop for the Halloween celebration. As an online seller or a dropshipper, you have the opportunity to get ahead of the trend by discovering exactly what your target audience is planning this season.

So what are people buying for Halloween? Which trending dropshipping products can you sell for Halloween?
Keep reading. This article may give you some inspiration.
2021 Halloween Consumer Trends Forecast
2020 is the year with the most severe impact of the COVID-19 epidemic worldwide. By 2021, some countries and regions are still suffering from the epidemic. In this case, the way people celebrating Halloween has changed much than in the past. But excitingly, according to NRF's latest Halloween Spending Survey, there are 65% of people planning to celebrate Halloween this year, which increases than in 2020 (58%).


Halloween gradually shifts to online.
It is an obvious trend that more and more people are turning to online shopping, and that's also why more people are engaged in dropshipping business. Since the outbreak of the COVID-19 epidemic, online shopping has facilitated people's lives. According to NRF statistics of 2021, the number of people who are going to spend online on Halloween in the US accounts for 29%, and the remaining people spent in discount stores account for 40%, in specialty stores account for 35%. In addition, according to Retail Gazette, Halloween accounted for more than 30% of online spending during the lockdown in the UK last year.

Not only do people shop online, but they are also even more inclined to gather Halloween inspiration online.
According to National Retail Federation:
• 36% of the people will search online.
• 26% of them browse in retail stores or costume shops.
• 19% of them get inspiration from their friends or family.

With the convenience and low prices of online shopping, it is expected that the trend of shopping online for Halloween in 2021 will only increase. When it comes to small home decorations, kids or pet costumes, and tricky props, which are easy to transport, people are more likely to buy in online stores with a variety of categories. But it is more appropriate to buy large home decoration items and adult costumes in physical stores for suitable sizes.


What are people buying for Halloween?
According to NRF Halloween Data Center, the total expected spending on Halloween in 2020 is up to $10.1 billion in the US, while the average expected spending per person is $102.74. What a huge value! Despite the epidemic, people's enthusiasm for spending on Halloween has not diminished. But the epidemic changed spending habits and shopping tendencies. Since 2020, more people have turned to purchase online. This year, they are planning to spend more on Halloween candy (96%) and home decorations (78%). Other popular products for Halloween include costumes (68%) and greeting cards (45%).

• Decorations
In 2021, although the epidemic is gradually under control, we'd better safely celebrate Halloween. So indoor activities will still play an important role in the Halloween celebration. According to Google Trends search interest in the United States for "Halloween Decorations" in the past five years, it grows year by year, and the interest in 2020 was the highest. It is expected that the people's demand for Halloween decorations will be at a relatively higher level.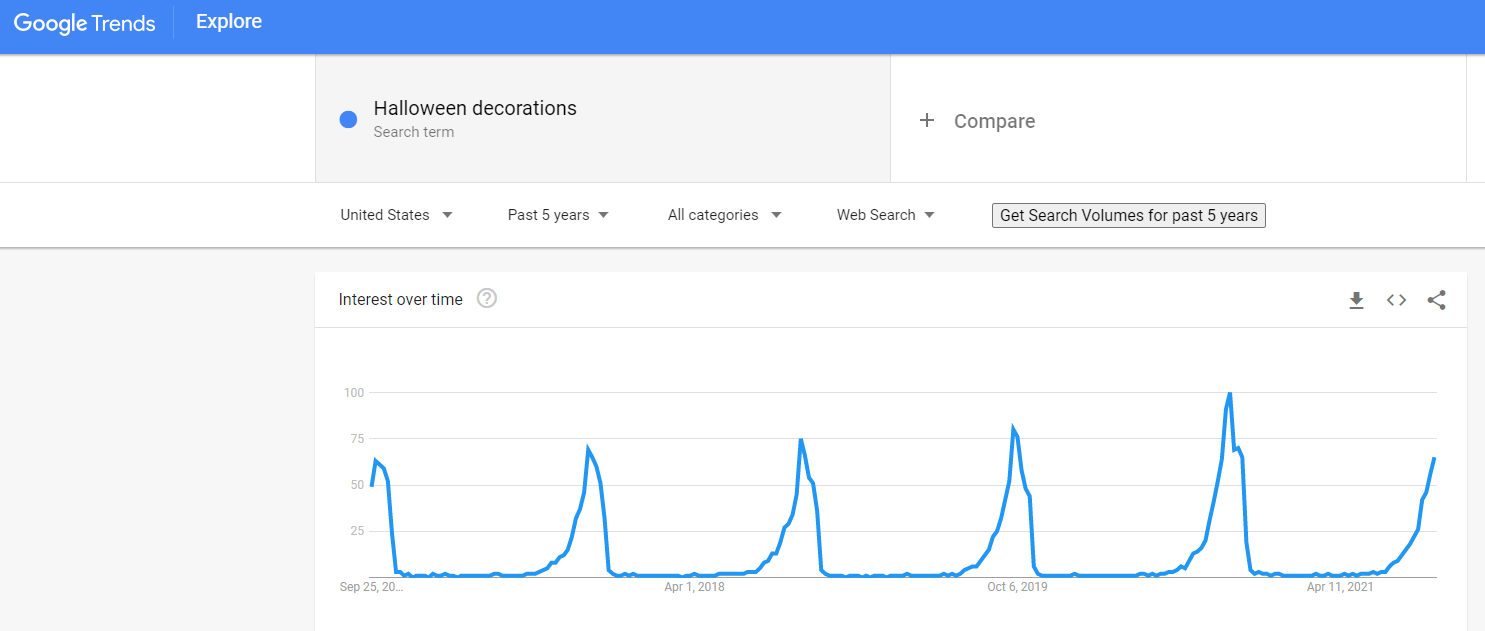 • Costumes
For children, the most exciting thing is to dress up as their favorite characters. And adults usually pretend to be witches or ghosts to trick their neighbors. But costumes tend to be the most expensive part of Halloween. People aged from 25-34 spent most on costumes in 2020 according to NRF.

The search interest for Halloween costumes has not changed much in recent years on Google Trends. But interestingly, more people are buying costumes for their pets. This may be due to the impact of the epidemic on outdoor activities, and people began to look for fun with their pets.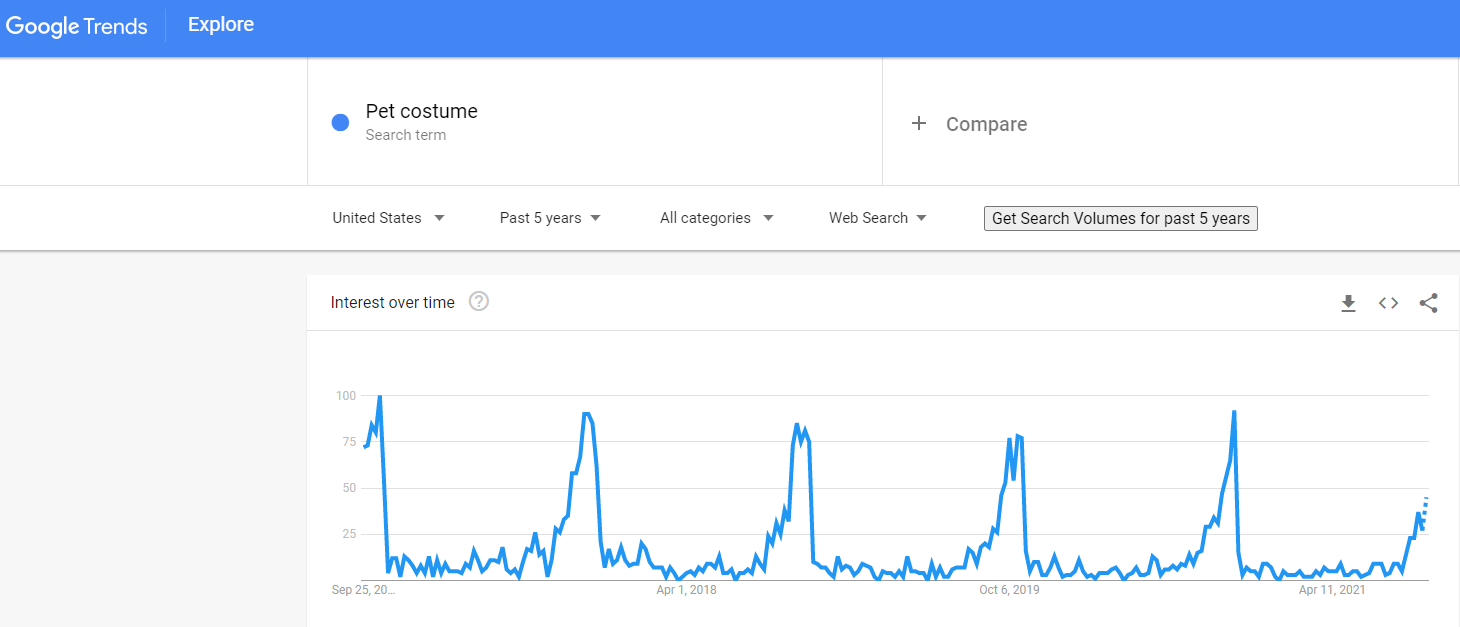 • Greeting Cards
Greeting cards are essential for the festivals. But people who prefer to buy greeting cards to express wishes are mostly people over 35. They may not tend to buy products online like young people. Instead, they will buy greeting cards at grocery stores near their home.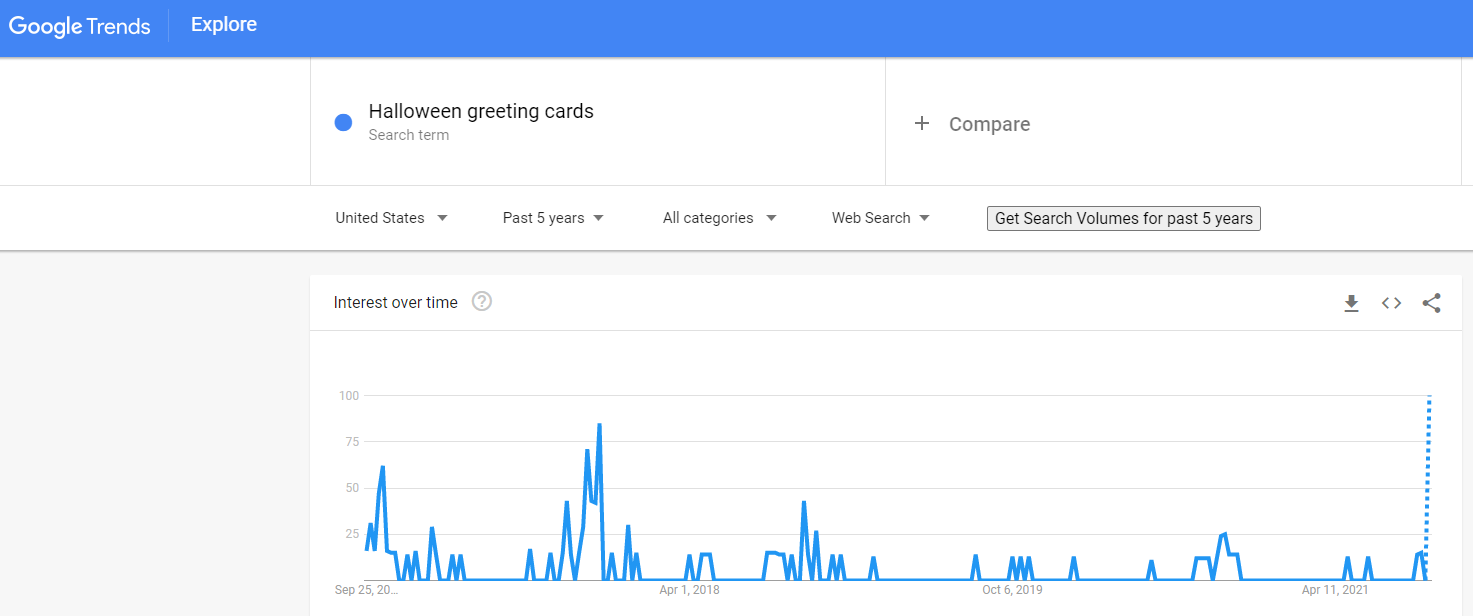 • Beauty
In addition to Halloween costumes, various Halloween beauty products are also favorites of women, such as wigs, body paints, nails, etc. Even though it is not convenient to go out during the epidemic, it's a good idea to dress up and post photos to social platforms.
So the search interest of "Halloween beauty" is stable in recent years, and it is expected that there will be a better trend this year.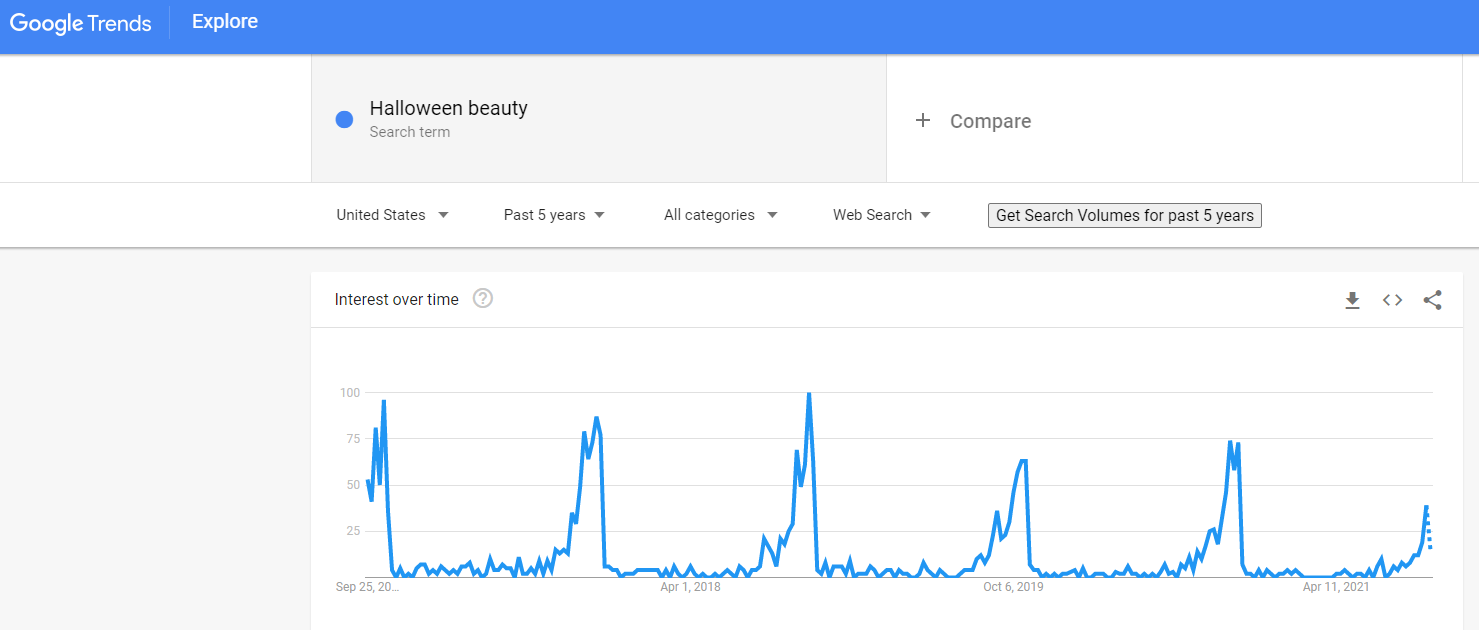 10 Trending Halloween Products For Dropshipping In 2021
Halloween is coming. We hope we can provide some Halloween dropshipping inspiration for you. So we have listed the following 10 trending products for examples. They are already in our marketplace on the SourcinBox app. If you want other types or styles of Halloween products, you can also search in the marketplace, or contact our customer managers to help you source them with better prices directly from manufacturers.


When it comes to home decoration, balloons are definitely the most versatile. All kinds of holiday parties can be decorated with balloons. With the rising demand for Halloween decorations during the pandemic last year, the search interest for "Halloween balloons" reached its highest level in the past five years. It is expected that the Halloween balloons can still be a trending product for Halloween this year.

The balloons are small, light, and easy to transport. It is a good product suitable for dropshipping. The following variety of cartoon balloons include spiders, bats, skulls, and eyeballs, a little scary but cute, which can make your home unique. If you have other ideas for Halloween balloons, just send us pictures or product links, we can source for you at better prices.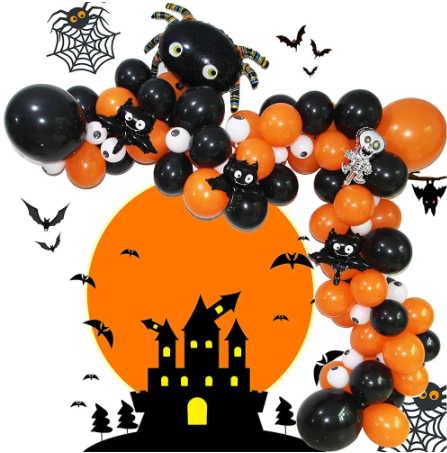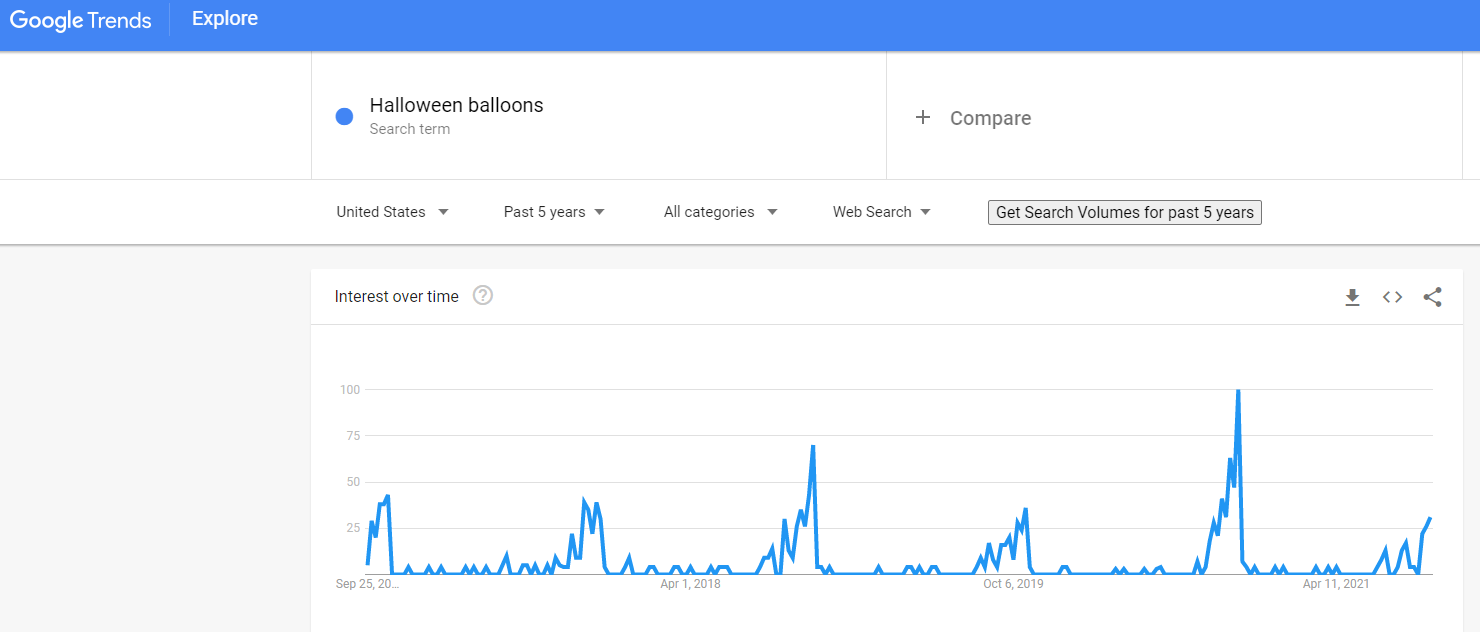 Halloween lights are also an indispensable decoration. The pumpkin, skull, and eyeball-shaped lights can not only light up your room but also set off the Halloween atmosphere. The trend of the increasing search interest for "Halloween lights" makes it a trending product for Halloween this year. The LED light is energy-saving and environmentally friendly. It is made of plastic and is not easily damaged during transportation. It is safe for dropshipping.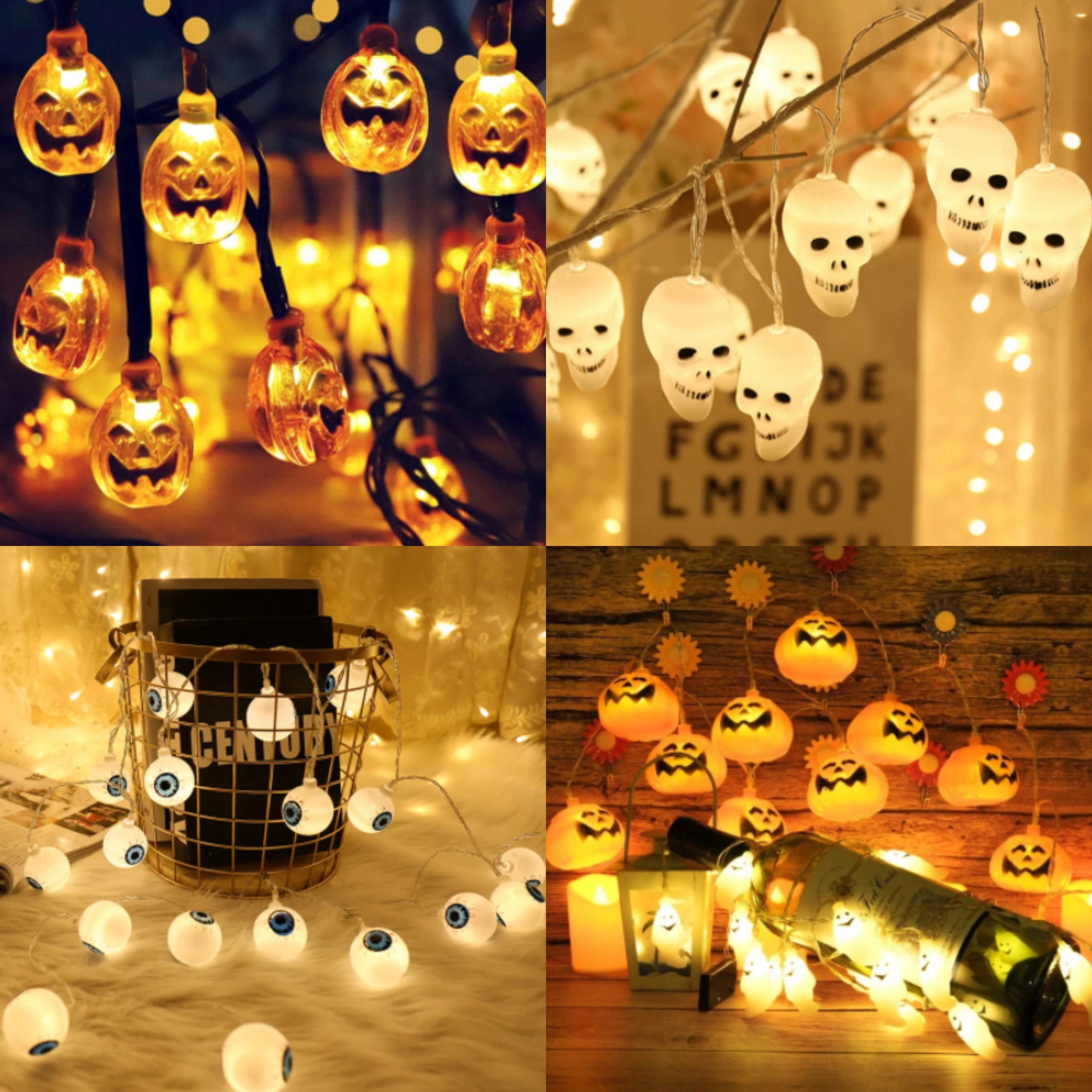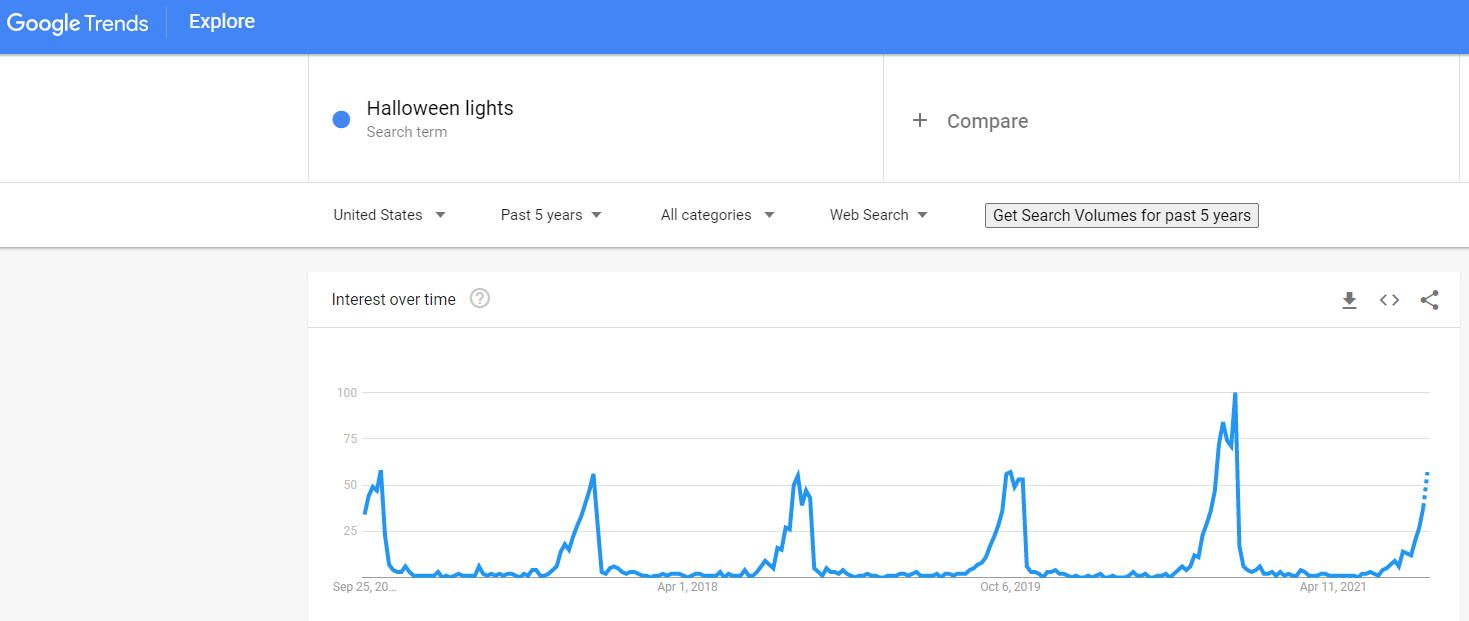 The horrible black spider is definitely a frequent visitor to Halloween. Imagine how scared your neighbors would be to see huge spiders crawling at your door. What a great Halloween "trick or treat" prop! According to Google Trends, the search interest for "Halloween spider" is high and growing in recent years. The realistic spider is likely to be the trending product for Halloween this year.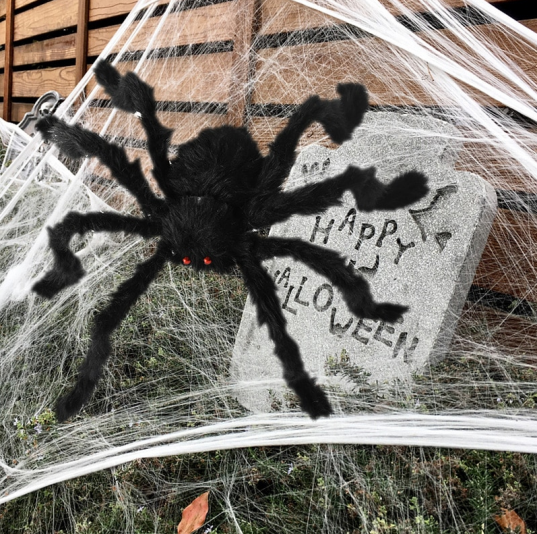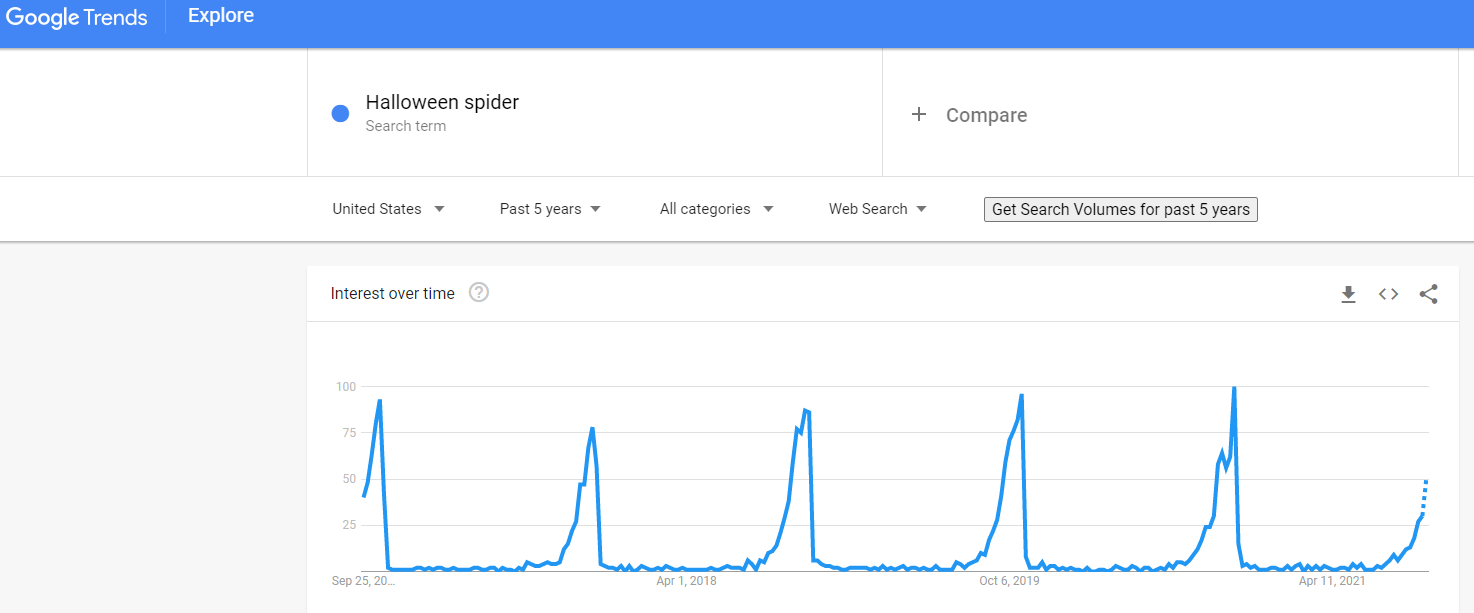 Your pillows may not escape decoration on Halloween. The Halloween theme printed pillowcase is a good choice for decoration. According to Google Trends, the ghost pillow seems to be a trend this year. So if you are going to buy or sell pillowcases, just pick the ones with Halloween ghost prints.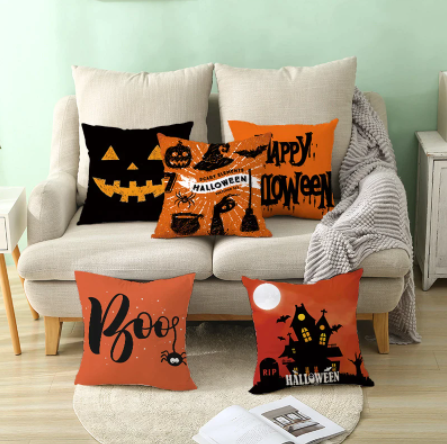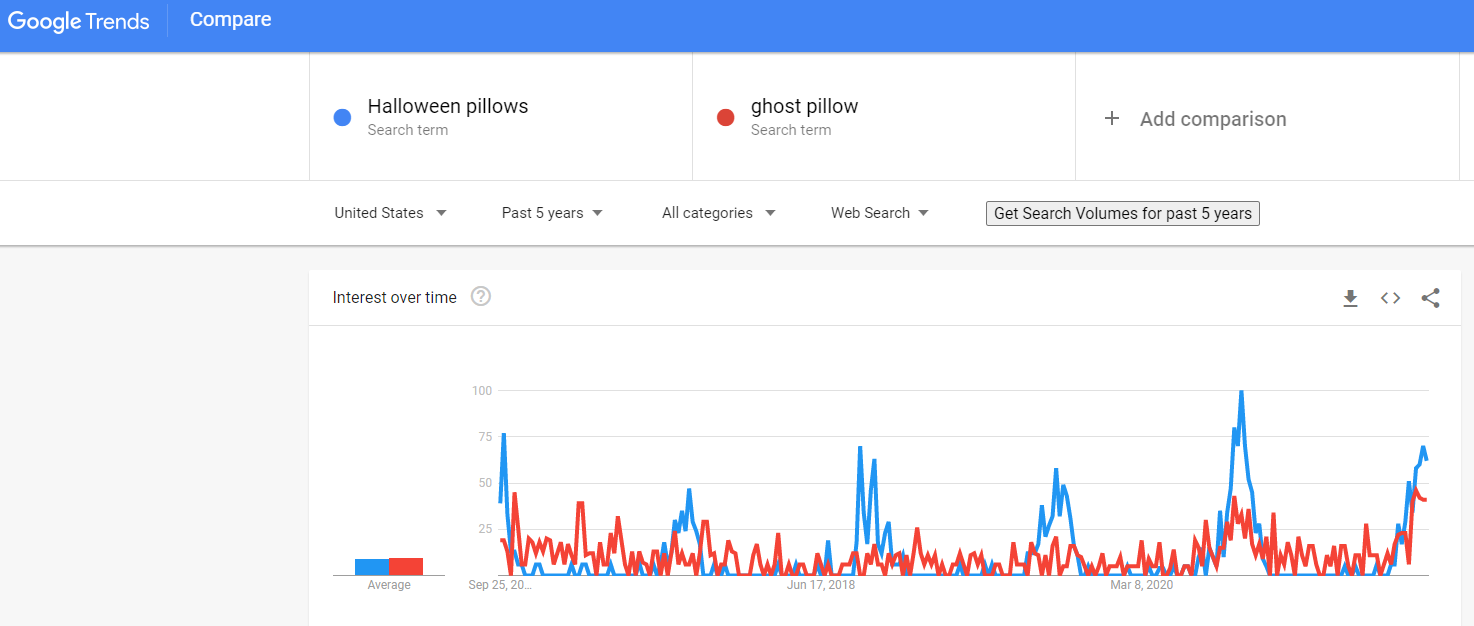 How can there be no living "monsters" on Halloween? Many people will dress up their pets in funny costumes on Halloween. A unique spider-shaped pet costume can make your pet looks a little scary but funny when it runs around. If you are selling pet products, don't miss this.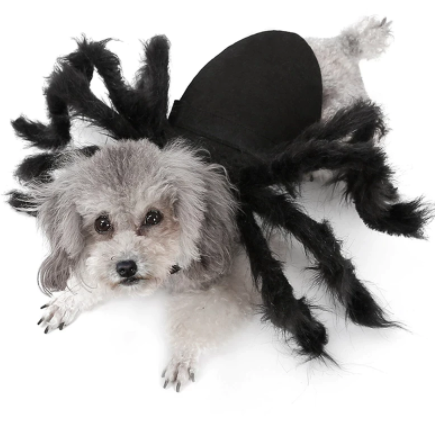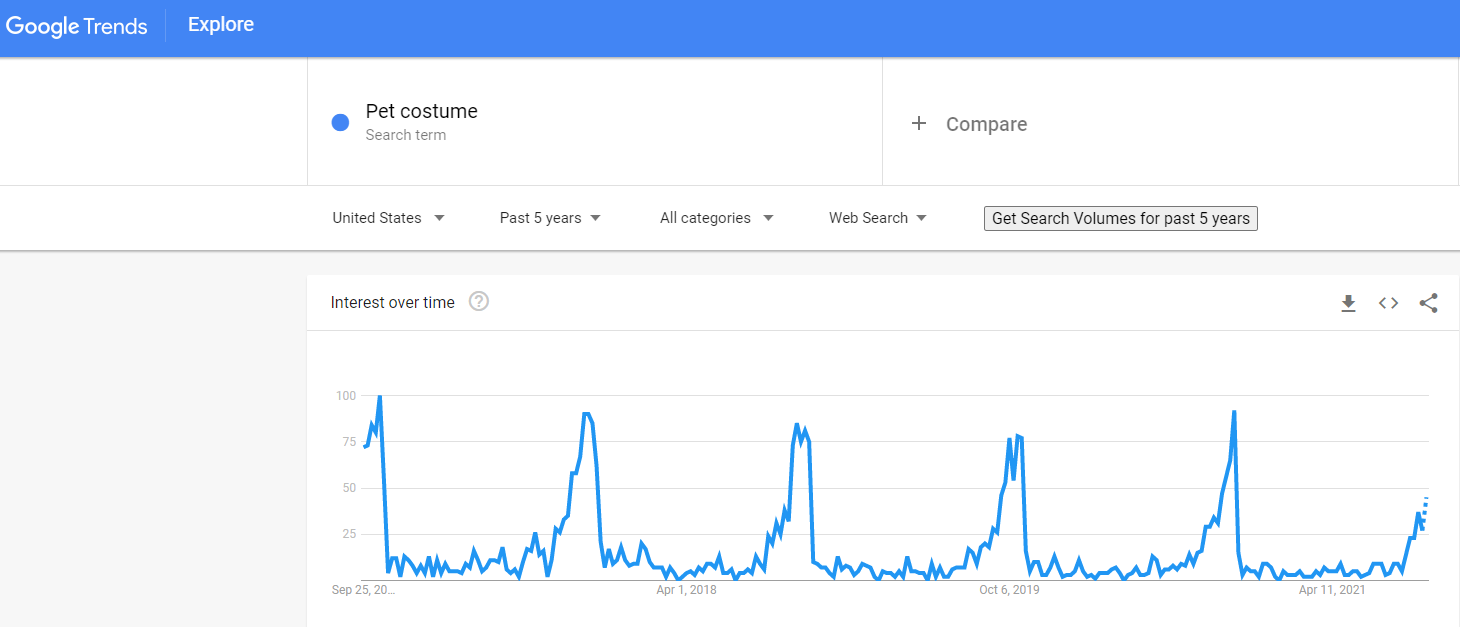 We have to pay attention to the COVID-19 epidemic while celebrating Halloween. Although various horror masks are very popular, disposable anti-epidemic masks are still important. But ordinary medical masks are not for the Halloween scene. So it is a good choice to wear Halloween-printed disposable masks when participating in outdoor gathering activities.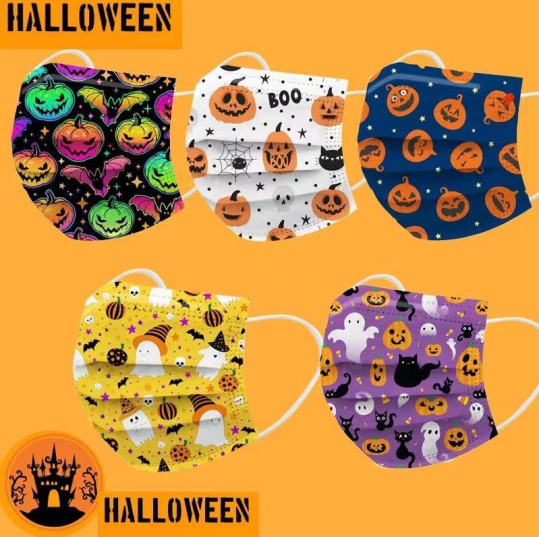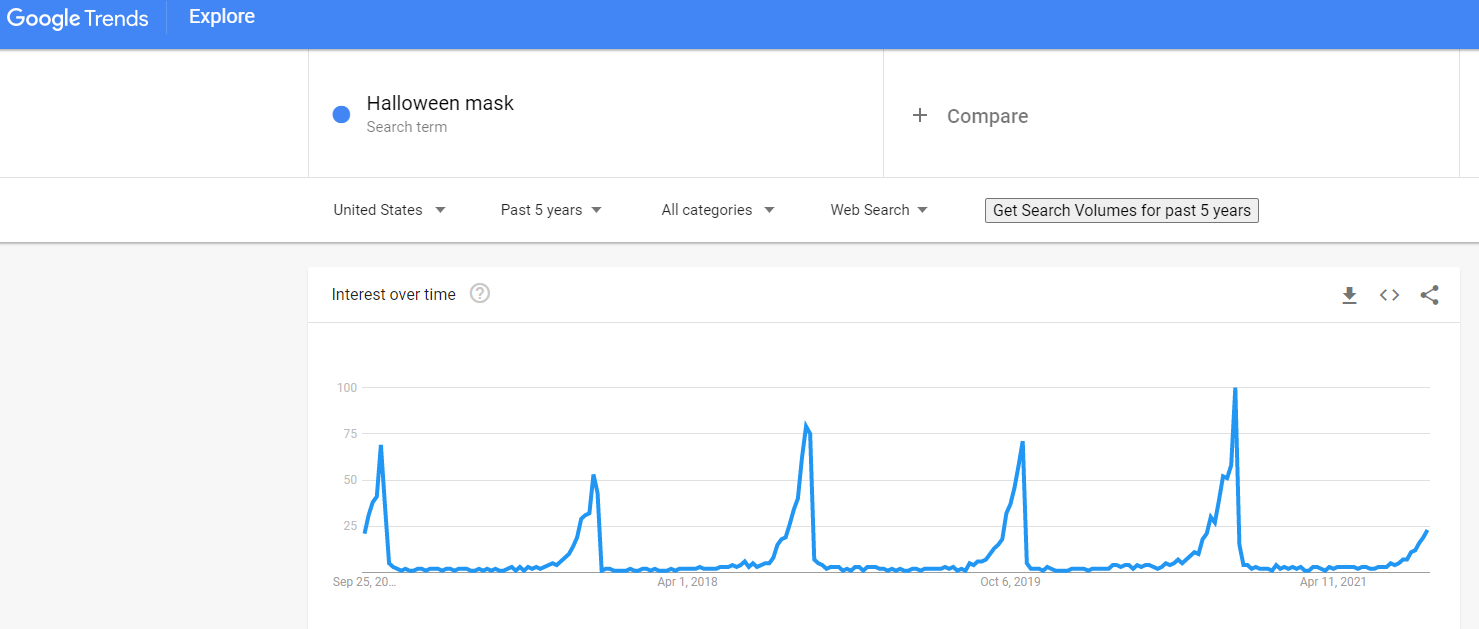 A horror mask is a must-have prop for Halloween. People's enthusiasm for horror masks is growing every year. A super cool light glowing mask can make you different at night. You can not only wear it on Halloween night but also cosplay at parties. The LED mask is made of high-quality PVC and EI cold light without UV damage. It is convenient to wear and safe for the human body.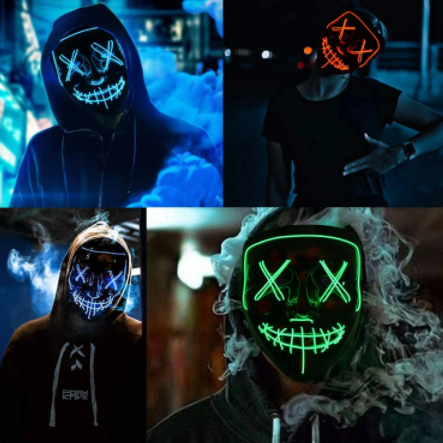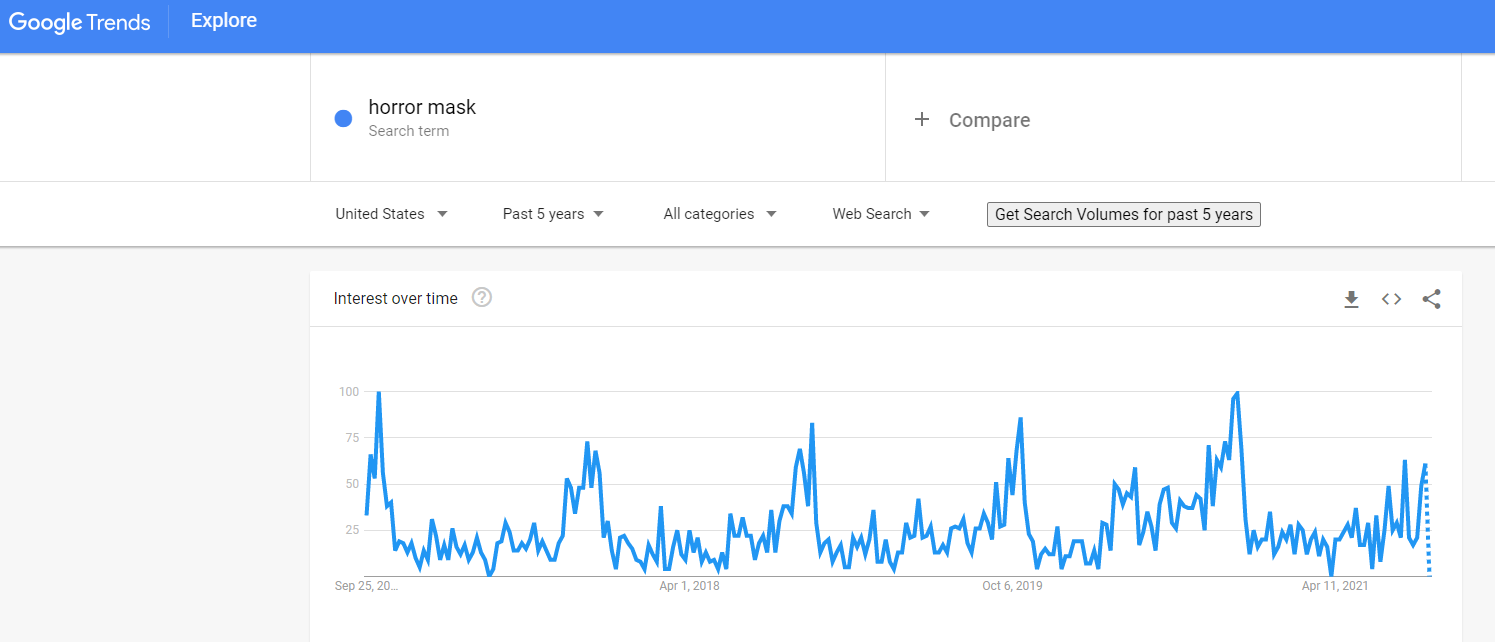 Recently, as the Korean movie "Squid Game" has become popular all over the world, many people have begun to buy and sell squid game props. Among them, the squid game mask is favored by consumers. The thrilling theme makes it a great Halloween product idea.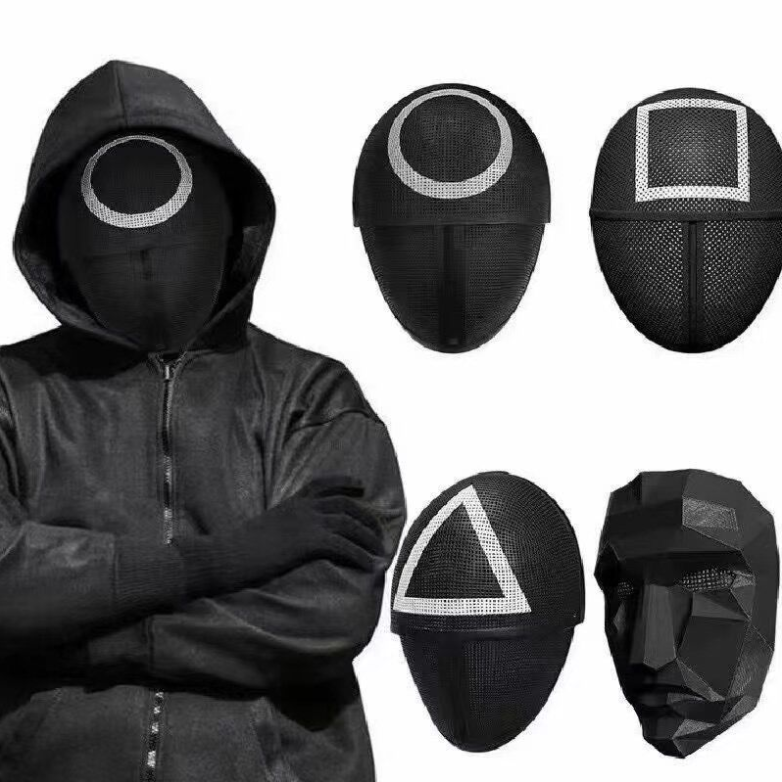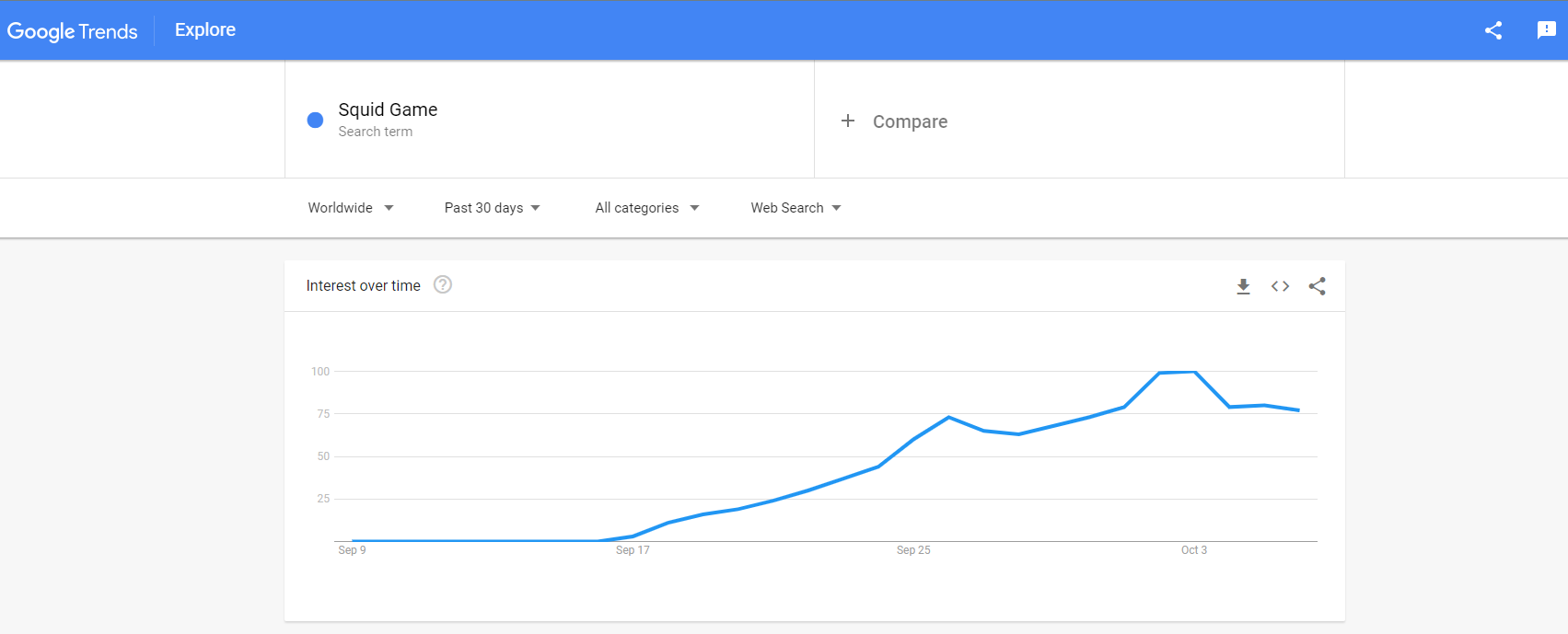 Those exaggerated and beautiful Halloween makeup can easily become the focus of the crowd. However, the epidemic last year restricted outdoor activities. It is obvious that people didn't have much enthusiasm for face and body paints. But after experiencing a quiet Halloween last year, people must want to have a carnival this year. So the popularity of Halloween makeup is expected to increase this year. If you are a cosmetics dropshipping seller, it's a good choice to prepare some Face And Body Paint Pigments.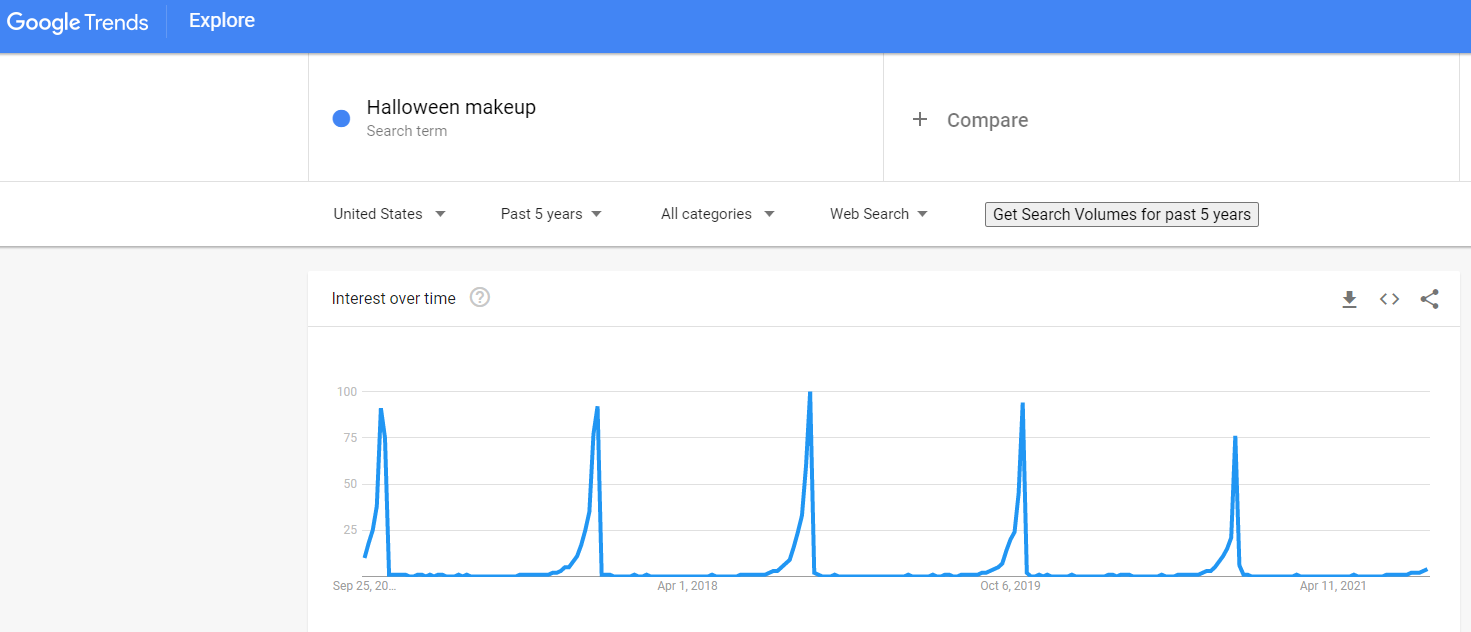 What if you don't want to spend a few hours putting on Halloween makeup? Then tattoo stickers can give you beautiful makeup in minutes. In addition to facial tattoo stickers, there are also scary scars and wound tattoo stikers. We all know that tattoos are harmful to our bodies, but tattoo stickers are harmless and can be easily washed off. It's also safe for kids.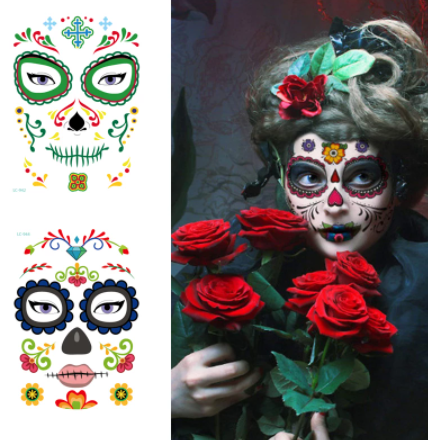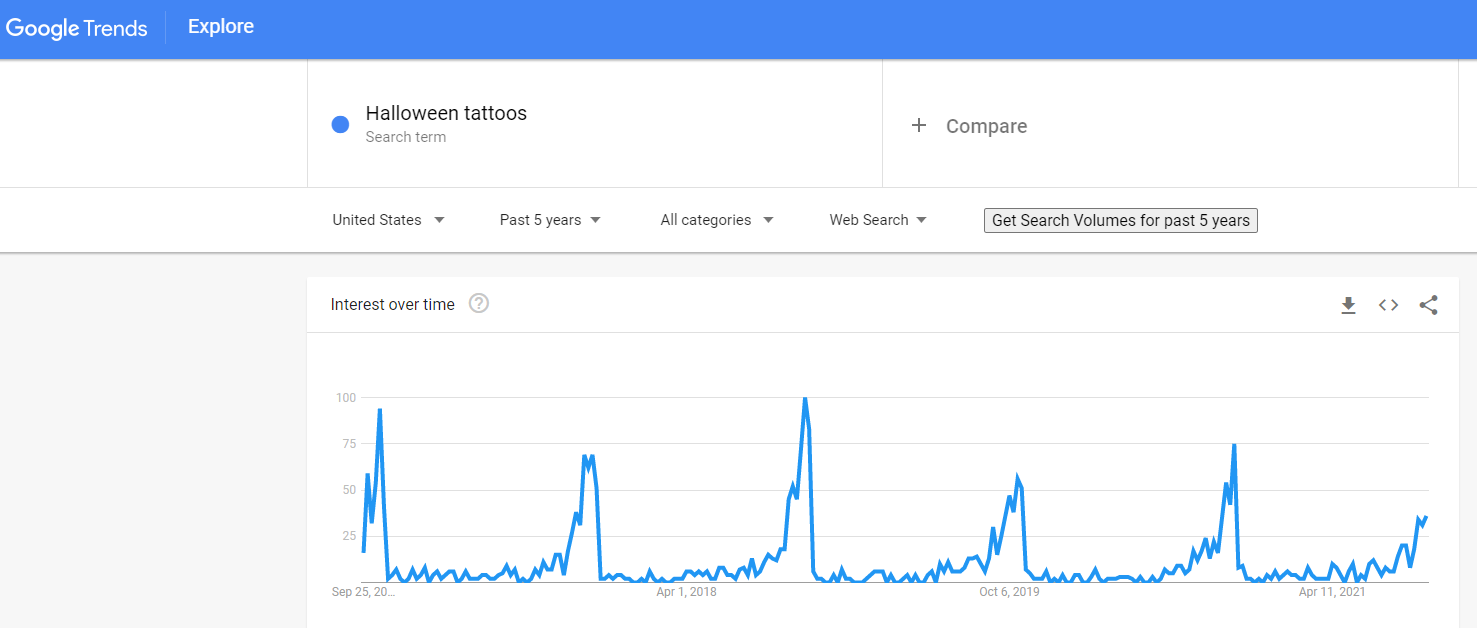 During the lockdown last year, mothers seemed to be enthusiastic about making cookies at home. There are many great tools to help moms make cute cookies on Halloween. Cookies made by the pumpkin and ghost-shaped cookie cutter with the patterns drawn by the mothers' hands will surely be loved by their children.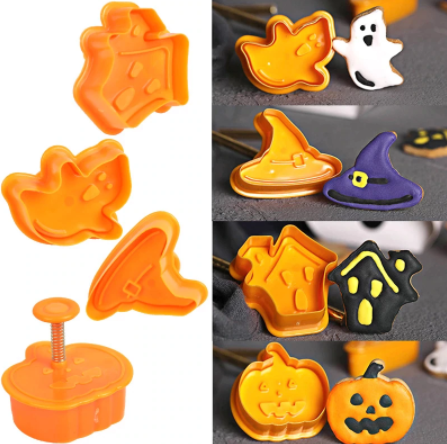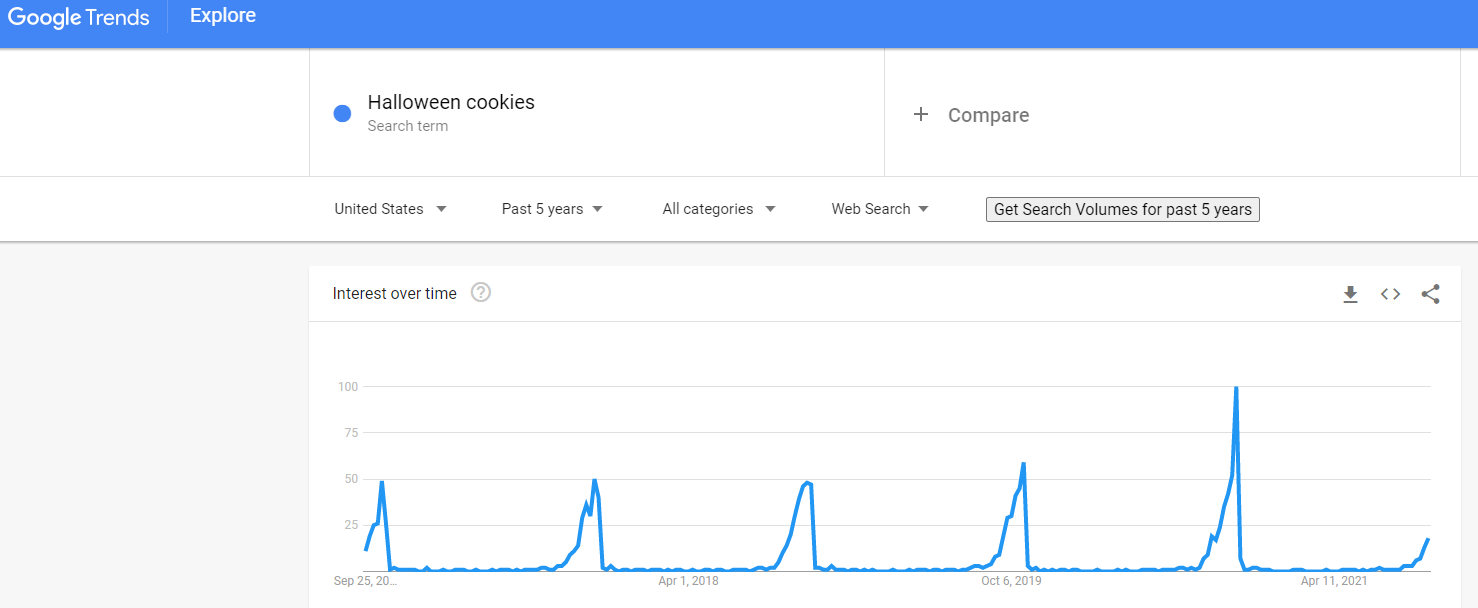 How To Win Halloween Online in 2021?
1. Pay Attention To Consumer Trends
We show different consumption habits at different times and seasons. People's shopping trends are the best guide to what you are going to sell. There are many e-commerce platforms and blogs that will release some consumption data and trends before important holidays. You can pay attention to this information for inspiration.


2. Start The Promotion Early
Consumers are used to shopping in advance. According to NRF, around 39% of people start shopping in September while more than 40% start shopping during the first two weeks of October. To start the promotion early, you can catch the first batch of consumers.


3. Provide Fast Shipping
You must provide competitive and fast shipping to ensure that your customers will get their products before Halloween. SourcinBox offers multiple shipping options with fast shipping. We have competitive prices and shipping times.


4. Use Social Platforms
Since more and more people will find Halloween inspiration on Social media or from their friends. It is a good idea for you to use "Buy Now" buttons on social platforms such as Facebook, Instagram, YouTube, Pinterest to encourage customers to buy your products.


Conclusion
People's spending on Halloween increases every year, even the epidemic can not stop it. Compared with Halloween under the epidemic last year, Halloween consumption in 2021 is expected to increase explosively. As more and more people start shopping online, it is a good opportunity for online sellers to expand their business during the Halloween season this year.

After reading this article, you may have some inspiration. If there's no product you like, don't forget that you can contact us to source the product you want.