Do you often hear the word "Dropshipping" while browsing videos about e-commerce on Youtube? So what is dropshipping?

Dropshipping is a form of retail business. The retailer accepts customer orders but does not keep inventory. Instead, the orders and their shipment details transfer to either a manufacturer, a supplier, another retailer, or a fulfillment center, which then ships the products directly to the customers. As such, the retailer is responsible for marketing and selling a product, but has little or no control over product quality, storage, inventory management, or shipping. It eliminates the costs of maintaining a warehouse and employing the necessary staff for such functions.

But the concept of dropshipping may still be vague for some beginners. So the following content will answer the questions you may have about Dropshipping, including:


• How Does Dropshipping Exactly Work?
• What Are The Pros & Cons of Dropshipping?
• How to Start Dropshipping?
• How Much Does It Cost to Start A Dropshipping Business?
• Is Dropshipping Worth It in 2021?
• Other Questions About Dropshipping.

If you are interested in dropshipping and want to learn more about this business model before you start, then this article will definitely help you avoid detours. Let's dive into the article with the questions.


How Does Dropshipping Exactly Work?


Think of dropshipping as a three-step process:
① The customer places an order and pays you $200 (product price).
② You forward the order to the supplier and pay $150 (wholesale price).
③ The supplier ships the product to the customer, and you keep $50 (profit amount).

There are three important roles in a dropshipping process: Customer, Your Store, Supplier.

Suppliers-After you have screened out high-potential products to sell in your dropshipping store, you will go to suppliers on AliExpress (The most popular e-commerce platform for dropshipping) or dropshipping agents for cooperation.

Your Store-Then all you need to do is set up your own dropshipping store with the high-potential products that have been screened earlier and advertise to promote the products.

Customer-Once a customer places an order in your store, you forward the order details to the partner supplier or dropshipping agent. Then they will ship the product directly to the customer according to the order information.


The Pros & Cons of Dropshipping
Benefits of Dropshipping
• It's easy to set up a dropshipping store.
It is very easy to launch your first dropshipping store online as long as you've found potential products for dropshipping. With tools like Shopify, you can complete the basic store set up in a few hours. Then you just need to optimize your store continuously based on future business conditions. Since you don't need to keep inventory, you can test various products without breaking the bank.
• No need to keep inventory or shipping products yourself.
One of the biggest benefits of dropshipping is that you don't need to spend time packaging, shipping, and managing inventory. There will be a third-party supplier, manufacturer, or dropshipping agent who takes care of the product packaging and shipping, inventory, or even after-sales issues. Thus you can focus more on store marketing. But you'd better pay some attention to the product quality and shipping times.
• Dropshipping is easy to scale.
As your business grows, if you want to scale your sales, the only thing you need to do is invest more in your marketing to attract more customers. The supply chain will not change much and the basic costs will not rise rapidly.
• You can easily sell all over the world.
The advantage of online shopping is that you can buy items from countries all over the world while sitting at home with your mobile phone. As the owner of an online dropshipping store, you are the one who can sell products all over the world while sitting at home because you don't need to do offline purchases and delivery.
• It's flexible to adjust.
You are the boss to set your own rules and you can work at home with only a laptop. It is super convenient and flexible to run a dropshipping business. You can easily make a decision to stop selling a product or list new products whenever you want. Also, the marketing strategy can be adjusted flexibly. You can even enjoy automated income while on vacation.
Disadvantages of Dropshipping
• Low-profit margins.
Due to so many benefits of dropshipping, more and more people are pouring into dropshipping business, and the competition is ruthless. You have to lower the prices and margins to get the possibility of getting more sales. But if you can choose the right niche and audience, and reliable suppliers, you may be able to earn a high-profit margin. In niches with little competition, you can get high profits but low sales. That's why many successful dropshippers invest a lot in advertising to increase sales.


Therefore, to beat your competitors, on the one hand, you need better dropshipping suppliers to provide high-quality products at lower prices and faster shipping times. On the other hand, you must pay more attention to marketing and store optimization to obtain more loyal customers.
• High advertising cost is required.
If you have read other articles or watched videos about dropshipping before reading this article, they will probably say that one of the great benefits of Dropshipping is that "Dropshipping does not require high upfront costs."


To be honest, dropshipping may not as wonderful as you think. Dropshipping does save inventory and management costs. But you must understand that dropshipping is an e-commerce business model that must rely on paid advertising due to the cruel competition. However, advertising is a skill that is not easy to master, and the advertising costs are not cheap. So dropshipping beginners will definitely spend more time and money in the early stage of marketing.
• Dropshipping is an unstable business model.
Dropshipping is unstable because there are no permanent hot-selling products. For example, suppose you are selling a hot product, then someone finds the product you are selling through niche tools, and then they sell the same product as you to compete with you. When the market for this product becomes saturated, the volume of sales will plummet. You have to give up this product and look for another best-selling product.


Therefore, if you can't quickly find good selling products, you will be squeezed out by your competitors, making your dropshipping business unstable.
• You have little control over the supply chain.
Although there's no need to deal with stocking, packing, or shipping, it also means that you have little or no control over the whole supply chain. The product quality, shipping time, inventory situation, etc all depend on the suppliers. When you cooperate with multiple suppliers, the quality and delivery time of the product received by the same customer may be different, which will make the shopping experience worse.
• It can be difficult to handle after-sales issues.
When your customers have problems with the products, they will contact you first instead of the corresponding supplier. You have to communicate back and forth between the customers and suppliers. What's worse, not all the suppliers support refunds or reshipment, so in order to satisfy your customers, you may have to take the responsibility of dealing with after-sales issues yourself.

A dropshipping agent can provide better services than dropshipping suppliers. For example, SourcinBox is a dropshipping agent company that can source low-priced products directly from Chinese manufacturers, and conduct unified quality inspection and packaging. Then they will deliver the products directly to your customers through a variety of logistics providers that cooperate with them in a fast shipping time.

They also provide an efficient and free app to help you process store orders in batches. There will be 1-on-1 customer managers to help you solve all problems, assume after-sales responsibilities, and make your dropshipping business easier and more efficient.


How to Start Dropshipping?
So after learning about the pros and cons of dropshipping, how to start and operate a dropshipping business? There are usually five steps.


STEP1: Product Research
The success of dropshipping largely depends on the products you sell. Products that can bring a large volume of sales and profits are usually called "Winning Products". Choosing the right products will give you a multiplier effect.

So how to judge whether a product is high-potential? You can refer to the following four standards.

• High Market Demand: Products that can effectively solve a particular problem are usually favored by customers.
• Low Market Supply: It means that the product is not available in ordinary stores, and can only be purchased online.
• Unique: Unique Products can attract the attention of customers and enhance their desire to buy.
• High-profit Margin: The product pricing must be at least three times the product cost. In this case, there are profits left in addition to the marketing costs.


STEP2: Find Dropshipping Suppliers
After selecting the product, the next step is finding a dropshipping supplier to help you process daily orders. The first thing many beginners think of is finding reliable suppliers on AliExpress. That's true, AliExpress is very suitable for dropshipping beginners to explore and test products. However, the shipping methods that AliExpress can provide are limited and the shipping times are usually over a month. You can't make your customers wait for so long.

As an alternative to AliExpress, SourcinBox saves you the time of finding reliable suppliers. Because the SourcinBox team will directly source products from Chinese manufacturers and suppliers such as 1688 and Taobao (The same products as AliExpress but lower prices), and then send them to your customers by fast shipping.


STEP3: Set up Your Dropshipping Store
As mentioned earlier in the benefits of dropshipping, setting up a dropshipping store is very simple. Many dropshippers use Shopify to set up their first stores because Shopify is a site software designed for e-commerce stores. It is very convenient to list products, adjust product prices, process orders, provide customer discounts, etc.

For dropshipping, you can go to the Shopify App Store and install the SourcinBox app mentioned earlier. And then you can import products from SourcinBox to your Shopify store. Your store orders will also sync to SourcinBox automatically so that the SourcinBox team can process the orders and ship products to your customers.


STEP4: Marketing(Drive Traffic)
There's very little organic traffic in newly established stores. It is worth mentioning that in addition to the screening of high-potential products, advertising is another very critical success factor. Because no matter how good the product is selected if the seller does not know how to promote it, it is still difficult to get considerable results.

So you need to use Facebook ads to drive traffic to your store. You can test the product first to see how the market responds to the product, how high its sales volume can be in the testing phase, and so on.

In addition to paid advertising, you can also post store promotions via email, Youtube, Ins, TikTok, or some other social media.


STEP5: Scale Up
As an entrepreneur, the first task is to get more sales and profits. Once the product is determined the "winning product" we are looking for, you should formulate a marketing strategy to expand your revenue. For example, you can hire an assistant to help you with customer service, so that you can spend more time optimizing advertising strategies to increase product sales with the lowest advertising cost.

In addition, it's time to change better suppliers and fulfillment services. If you have not used SourcinBox, you should try it. You can safely hand over the whole supply chain to the SourcinBox team and better focus on your store marketing. Moreover, the prices, shipping methods, and customer services provided by SourcinBox can save you a lot of time and costs.


How Much Does It Cost to Start A Dropshipping Business?
The following table shows the main costs of starting a dropshipping store.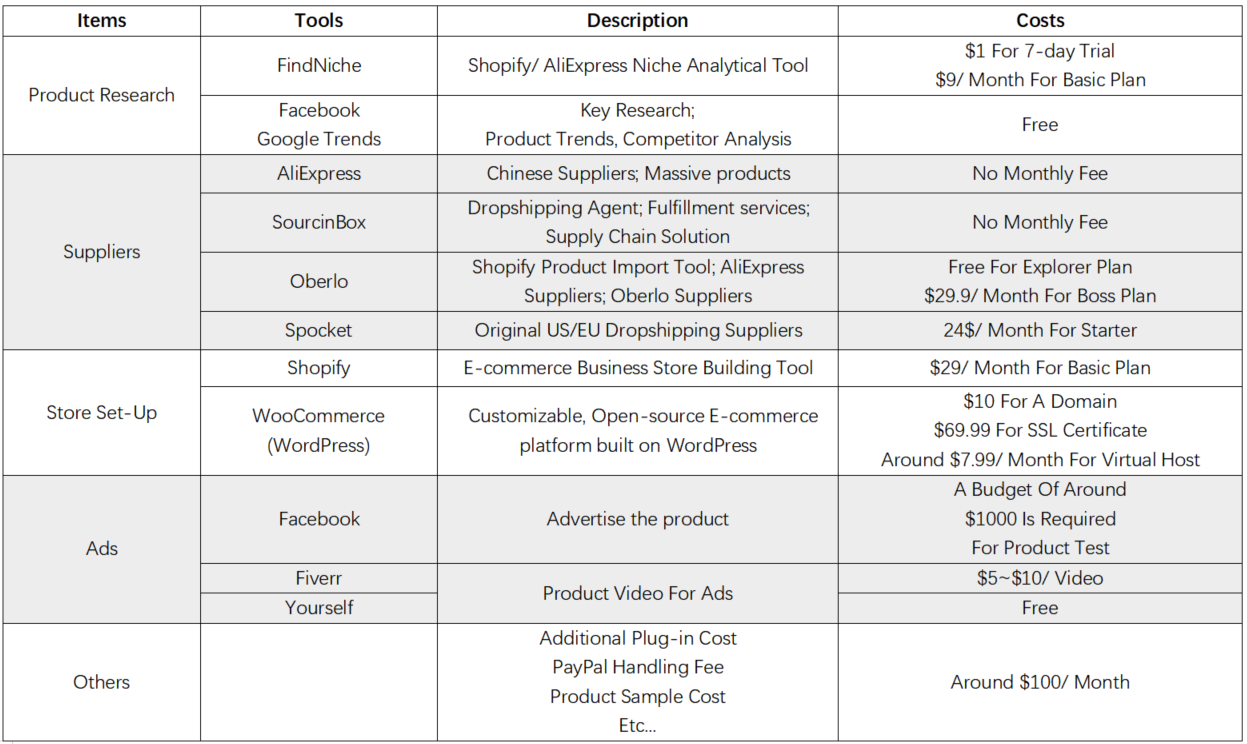 According to The Table, The Minimum Start-up Cost is:
FindNiche+SourcinBox+Shopify+Facebook Ads+Others
=$1+$29+$1000+$100=$1130
You can also invest more in advertising and try better tools if you have enough budget.


Is Dropshipping Worth It in 2021?
This question is asked every year, and the number of dropshippers is increasing every year. And the answer is that whether you treat dropshipping as a side job or a full-time job, it is worth it, but not for everyone.
So who is dropshipping suitable for and who is not suitable?
• Dropshipping is suitable for these people who want to try e-commerce businesses with low capital.

Dropshipping is the business model with the lowest entry barrier in the e-commerce industry. It is not like an ordinary e-commerce model that needs to bear the pressure of inventory and capital, and there is no need to hire warehouses and management personnel.
If you can do well, the returns that Dropshipping can bring can be comparable to or even better than traditional businesses.

• However, dropshipping is not suitable for those who want to get rich overnight.

Although some sellers can make a lot of money quickly through the dropshipping model, the premise is that the seller must already be a master of marketing.

It is impossible for dropshipping beginners to know how to choose high-potential products and handle product copywriting and advertising well when they first enter this field. None of these marketing skills can be learned in just a few days. Beginners have to continue to practice from the beginning in order to master these skills.

For those who want to make quick money, dropshipping is indeed a good way. But if you don't even have a solid marketing foundation and want to get rich overnight with Dropshipping, it is obviously impossible.

No business is perfect. Of course dropshipping has disadvantages, but it doesn't mean it's not worth trying. If we stand from the perspective of honing skills and laying a good marketing foundation, Dropshipping is definitely a good learning channel for beginners. And even if it fails in the end, the marketing skills and knowledge that beginners can learn are still valuable. Because these marketing skills and knowledge are not only useful in doing dropshipping, but also in other industries will be very helpful!


Other Questions About Dropshipping.
•

Is dropshipping legal?
Many beginners may have this question because they have never heard of any e-commerce business that allows sellers to start without keeping inventory or shipping, which seems a bit untrue. In addition, dropshipping is often described as the "secret" to get rich quickly, which sounds like a scam.

But anyway, dropshipping is definitely a 100% legal business model.

In fact, Dropshipping is essentially a set of methods in supply chain management. The seller will be responsible for the previous sales and customer service parts, and the supplier will handle all subsequent product packaging and delivery work. This process does not contain any illegal activities.

When choosing a supplier, you must repeatedly ensure that it is a trustworthy supplier. If the wrong supplier is selected, the customer may receive inferior products, the delivery time will be "extremely slow", etc. The consequence is that the number of negative reviews and refunds will increase sharply.


Amazon certainly allows dropshipping, but you need to follow their policies specifically for dropshipping. Compared to other platforms, opening a dropshipping store on Amazon can get the huge traffic that Amazon brings, but at the same time, there are many rules and restrictions. It would be a good choice if you can expand the scale of your dropshipping business and convert it to the Amazon FBA model.


Finding the best dropshipping niche is always one of the most important parts of the whole dropshipping process. But you can only find it with the help of tools and experiences because no one knows exactly what niche is the best.

But the following categories are definitely not suitable for dropshipping:

• Products that need to be checked carefully before purchasing: complex electronic equipment, sneakers, exquisite clothing, etc.
• Products that may cause legal problems and be detained: knives, fishing tackle, shotguns, bows, and arrows, etc.
• Products that are easily damaged during transportation: fragile glass, porcelain products, and food, etc.
• Oversized and overweight products: this type of product may have unforeseen shipping problems.


Finding reliable suppliers is also a matter that requires experience and skills.
When you are choosing a supplier, be sure to ask these questions:

• Whether the product is first-hand supply?
• Does the supplier require a MOQ?
• Whether the supplier provides the original product images?
• How long is the processing time?
• How does the return & refund policy work?
• Can the supplier give you preferential prices?
If you have any additional questions about dropshipping or how it works? Ask away in the comments!