AliExpress is one of the largest e-commerce markets all over the world. On AliExpress, you can find all the dropshipping suppliers and manufacturers of the products you want to sell in your Shopify stores. But suppliers are fixed with good ones and bad ones. So how to find reliable dropshipping suppliers on AliExpress?

Take an example of finding a supplier of phone cases. This article will show you 8 steps to find dropshipping suppliers on AliExpress. I hope it can help you a lot.

If you are finding a dropshipping agent, please check here.


Step 1:

Sort Stores By Product Orders.
Suppose I want to sell phone cases in the united states. Search "phone case" and sort by orders. Because the stores have large orders may have good reputations.
Step 2:

Compare The Store Ratings.
Look at the following three stores. We compare the Detailed seller ratings first. Green means the ratings are above average. Stores with ratings higher than 4.7 are usually not worse. However, ratings of 5.0 are a bit unconvincing. We need to consider other aspects.

Stores that are approved by AliExpress will have a Top Brand label. This can also be used as a reference when choosing suppliers.

Then we compare how many years the stores have been open. The first two stores have been open for more than three years, and they are old stores that may have a good reputation. The third store just has been open for four months. It's hard to guarantee whether the store will close down within one year.

Finally, we compare the positive feedback rate. It would be more reliable if the rate is over 96%. You must be interested in the store with a 100% positive feedback rate. So the next step we let's check the specific content of the product reviews. I will still take the following three stores for examples.



Step 3:

View Product Reviews.
Reviews with descriptions and photos would be more informative. You can learn whether the product quality, customer service, and delivery time meet your expectations. You can tick "Only from your country" to see if there are reviews about the delivery time to your country.

Reviews under the first store are almost all talking about the good quality of the phone cases. Some bad reviews are due to the wrong color delivery. In general, there is no need to worry about quality issues, but there is a certain probability of sending the wrong color.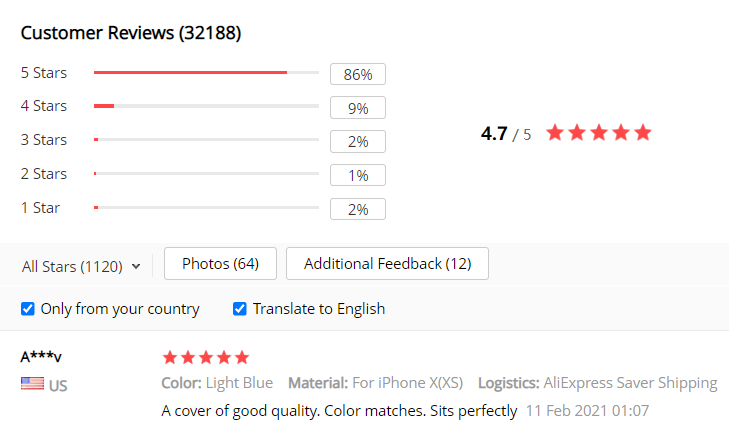 There are bad reviews about missing packages and poor quality. The overall reviews are slightly worse than the first store's.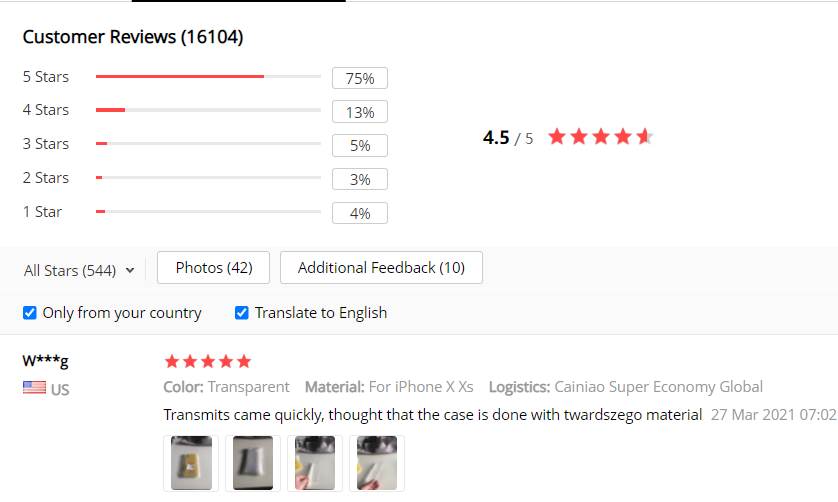 Here is a three stars' review that said the delivery time of the 5.0 rating store was very long to the US. There are only two of the more than 20,000 reviews with photos, and they are bad reviews. So the overall reviews do not have much reference value.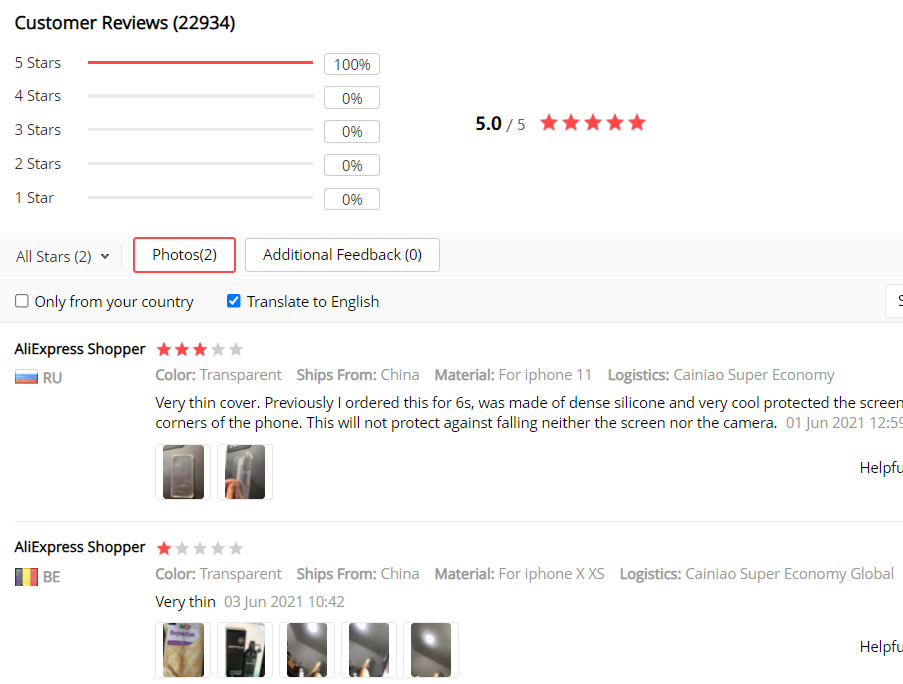 Step 4:

Check The Delivery Time.
Usually, the delivery time on AliExpress is more than one month with the free shipping method to the US. And the fast shipping methods are too expensive. So if you can accept long shipping times, the AliExpress standard shipping is acceptable. Because choosing a shipping method with a price much higher than the product price is not cost-effective.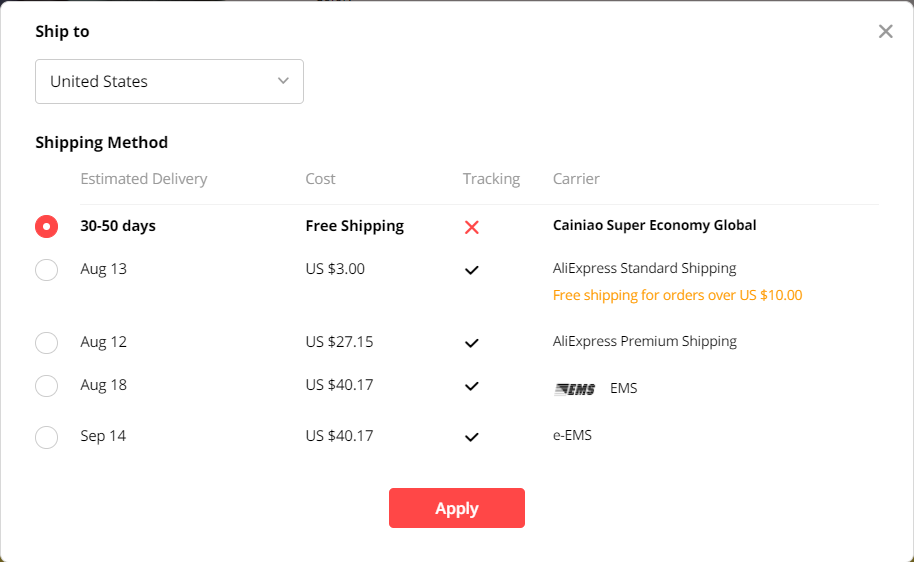 Step 5:

Check After-Sales Guarantee.
You can see the refund or return guarantees below the "Buy Now" button. But not all stores have a return policy. So you'd better select a supplier that provides a free return and refund.


After preliminary screening, the next step is to ask different suppliers for more details.


Step 6:

Contact Different Suppliers.
There are some questions you can ask different suppliers. And at the meantime, you can also learn about their customer service efficiency and communication ability.

• Whether the product is first-hand supply?
The first-hand supply is stable with perfect after-sales services, and the prices are more affordable.

• Do the suppliers require a MOQ?
If your orders are not so stable yet, you should avoid suppliers with a high MOQ limit.

• Whether the suppliers provide the original product images?
It is necessary to ask for original product images. On the one hand, if the supplier provides the original product images, there is no need to spend money and time taking product pictures by yourself. Then you can save a lot of cost and energy.
On the other hand, you can avoid infringement complaints by using the original images.

• How long is the processing time?
Before shipment, the order processing time affects the delivery time. Usually, the order processing time is reasonable within 5 days. Because a supplier whose order processing time is more than 5 days is more likely a reseller. Resellers usually don't have enough inventories. After they accumulate large numbers of orders, they find manufacturers for wholesale in batches, which will take at least 3 days.

• How does the return & refund policy work?
Be careful with the suppliers' return & refund policy. Some may have overlord clauses. You need to figure out how the suppliers deal with the quality issues, product damage problems, shipping cost for a return, etc. In short, ask for as many details as possible.

• Can the suppliers give you preferential prices?
When you first cooperate with a supplier, he will not easily give you a lower price. If the order is stable, you must discuss the price with him to reduce the cost because some suppliers increase prices when your order volume increases.
Then be sure to compare prices from multiple suppliers.

In the processing of talking with suppliers, remember to avoid suppliers that require money to join. They like to trap newbies.


Step 7:

Buy Samples To Ensure Quality.
After select suppliers suitable in all aspects, all you need to do is verify the quality of the products and the shipping times. You can buy samples from the suppliers you selected to check the quality. At the same time, you can also know what the delivery time is.


Step 8:

Come To

SourcinBox

Without The Above Steps.
If you have used SourcinBox, you will definitely find it easier to use it than to find a supplier on AliExpress.

SourcinBox is a dropshipping platform that can help you source products for you from dropshipping suppliers and manufacturers in China. You just need to consider what to sell. From sourcing to shipping. The SourcinBox team will take good care of your whole supply chain.

SourcinBox has lower product prices and shipping costs, more shipping options, fast processing and delivery time, efficient order fulfillment service, reliable after-sales service...

If you haven't found a reliable supplier yet, just send the product link to the SourcinBox team and try their services.